Maya Angelou tells 1,054 graduates that courage is the key to their destiny
At commencement exercises on May 20, Reynolds Professor of American Studies Maya Angelou (LHD '77) told 1,054 graduates that their destiny is "to develop the courage to dare to love, to dare to care, to dare to be significant."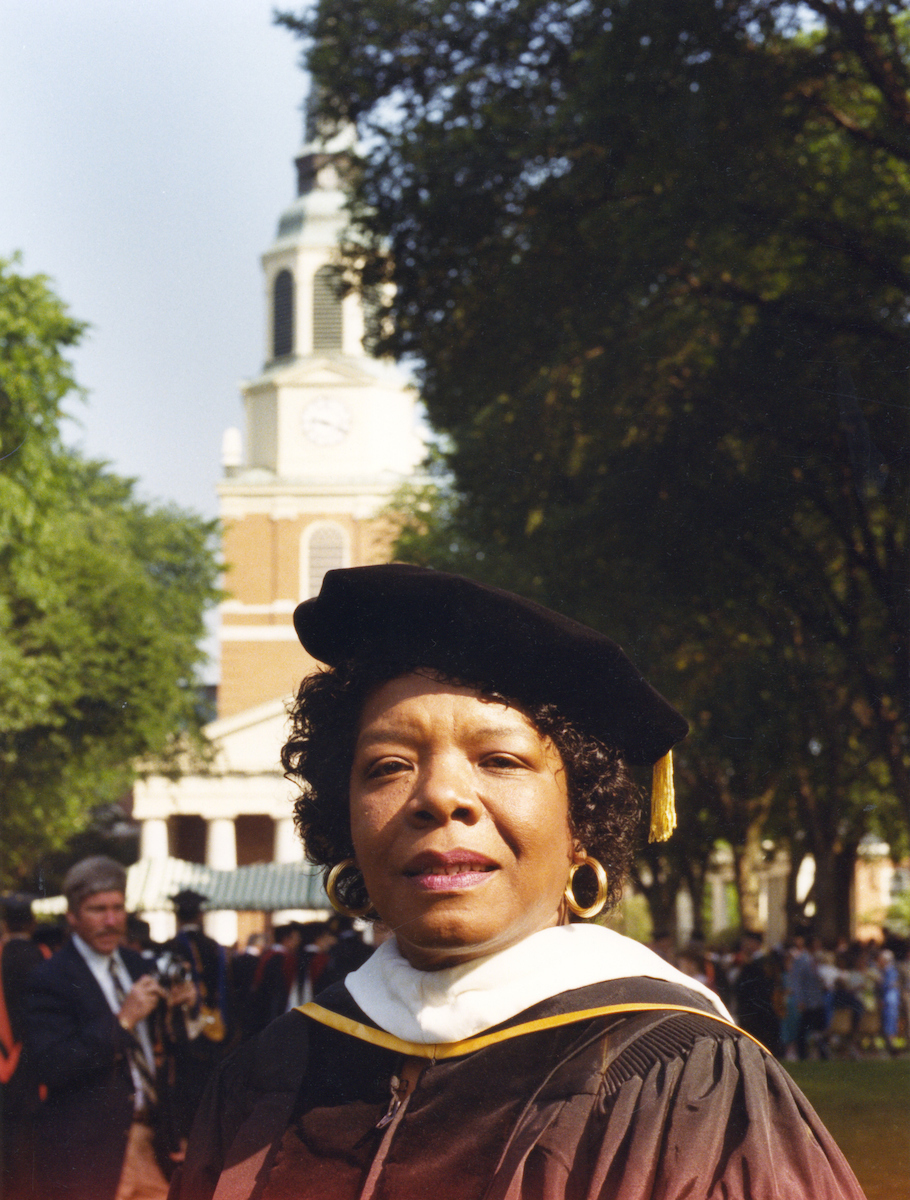 Angelou told the seniors that they are fortunate in the place and time of their birth because their futures are not oppressed by the political, religious, and economic struggles oppressing much of the world. She told them that they have the honor – and the opportunity – to make the country more than it is today, more than what James Baldwin calls "these yet to be United States." She urged the graduates to make their actions significant so that the sacrifices their families made to educate them and the teachings of their professors will mean something. She told the audience to think of destiny as a wheel with responsibility at its hub and she wondered whether this generation of graduates will be the one which establishes a viable, permanent good neighbor policy, which ends the famine in Africa, which eradicates the threat of nuclear disaster, and which ends racism, fleshing out the dream inherent in the words "all men are created equal."
University President Thomas K. Hearn Jr. told the graduates that the business of the University is the celebration of the life of the mind. He urged them to translate that celebration into useful lives which reflect the spirit of Pro Humanitate – lives which brighten the name of Wake Forest as well as the name of the individual.
Before the baccalaureate degrees were conferred, President Hearn awarded five honorary degrees. Entrepreneur and founder of the Farmers Cooperative Exchange and the North Carolina Cotton Growers Association Roy H. Park and Vernon Jordan Jr., former chief executive officer of the National Urban League, received honorary Doctor of Laws degrees. Reporter and writer Helen Hill Miller received an honorary Doctor of Humane Letters. Harold Clark Bennett, executive secretary treasurer of the Southern Baptist Convention, received the honorary Doctor of Divinity and President of the Association of American Medical Colleges. John Allen Dicks Cooper received the honorary Doctor of Science degree.
As is traditional, retiring faculty members from both the Reynolda and Hawthorne campuses received citations recognizing their contributions and service to the University. Provost Edwin G. Wilson ('43) presented citations to Germaine Brée, Kenan Professor of Humanities, and to Claud H. Richards Jr., professor of politics. Richard Janeway, vice president for health affairs and dean of the Bowman Gray School of Medicine, presented citations to Richard C. Proctor, professor of psychiatry, and to Horatio P. Van Cleve, associate professor of family medicine. Ruth O'Neal, associate professor of pediatrics; James T. McRae, assistant professor of surgery; Angus C. Randolph, professor of psychiatry, and Louis deSchweinitz Shaffner, professor of surgery received their citations in absentia.
On Sunday, May 19, Warren T. Carr (DD '65), retiring pastor of the Wake Forest Baptist Church, gave the baccalaureate sermon. He told a capacity audience in Wait Chapel that an alliance between Christians and secular humanists would improve the chances of solving worldwide problems. "I would urge you," he said, "to do one thing – reintroduce the grace of God to the world."
Published in Wake Forest Magazine.