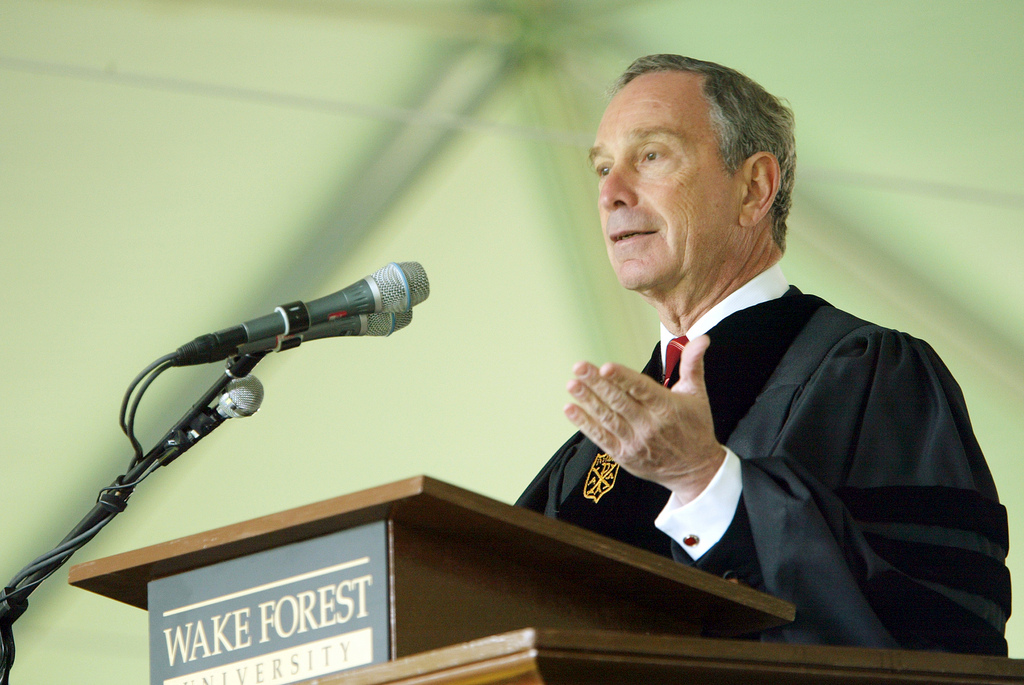 Approximately 1,478 students — 862 undergraduate, 616 graduate and professional — received diplomas at Commencement Monday.
In what President Thomas K. Hearn, Jr., described as "a stunning victory of desire over prudence," the ceremony was held on the Quad despite unseasonably cool, damp weather.
Michael Bloomberg, mayor of New York City and founder of the news and media company Bloomberg L.P., gave the Commencement address. "When it comes to success, the harder you work, the luckier you get," said Bloomberg, who also received an honorary doctor of laws degree.
Retiring faculty recognized were (Reynolda Campus):
Rhoda B. Billings, professor of law;
David G. Brown, vice president, dean of the International Center for Computer-Enhanced Learning and professor of economics;
I. Boyce Covington, professor of law;
Robert M. Helm Jr., Worrell Professor of Philosophy;
James A. Martin Jr., University Professor;
Timothy F. Sellner, professor of German;
Thomas C. Taylor, Hylton Professor of Accountancy;
J. Ned Woodall, professor of anthropology.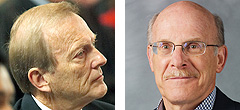 From the Bowman Gray Campus:
David A. Albertson, associate professor of surgical sciences-general surgery;
David M. Dewan, professor of anesthesiology-obstetric anesthesia;
Richard Janeway, professor of neurology, medicine and management;
C. Douglas Maynard, professor of radiologic sciences-radiology;
Thomas E. Nelson, professor of anesthesiology;
Earl Schwartz, associate professor of surgical sciences-emergency medicine;
Penny Sharp, associate professor of family and community medicine;
Benedict L. Wasilauskas, professor of pathology;
Lester E. Watts, associate professor of internal medicine-cardiology;
Richard G. Weaver Sr., professor of surgical sciences-ophthalmology;
Richard L. Webber, professor of dentistry;
and Kenneth T. Wheeler Jr., professor of radiologic sciences-radiology.
In addition to Bloomberg, honorary degree recipients were:
Richard Carmona, seventeenth Surgeon General of the United States;
Eric Olson ('77, PhD '81), chairman of molecular biology at the University of Texas Southwestern Medical Center;
Martha W. Barnett, partner in the law firm Holland & Knight;
and Martin E. Marty, author, theologian and the Fairfax M. Cone Distinguished Service Professor Emeritus at the University of Chicago Divinity School.
Commencement Gallery