Wrestle with complex issues, Warner tells 1,500 graduates
By Kerry King ('85)
Wake Forest Magazine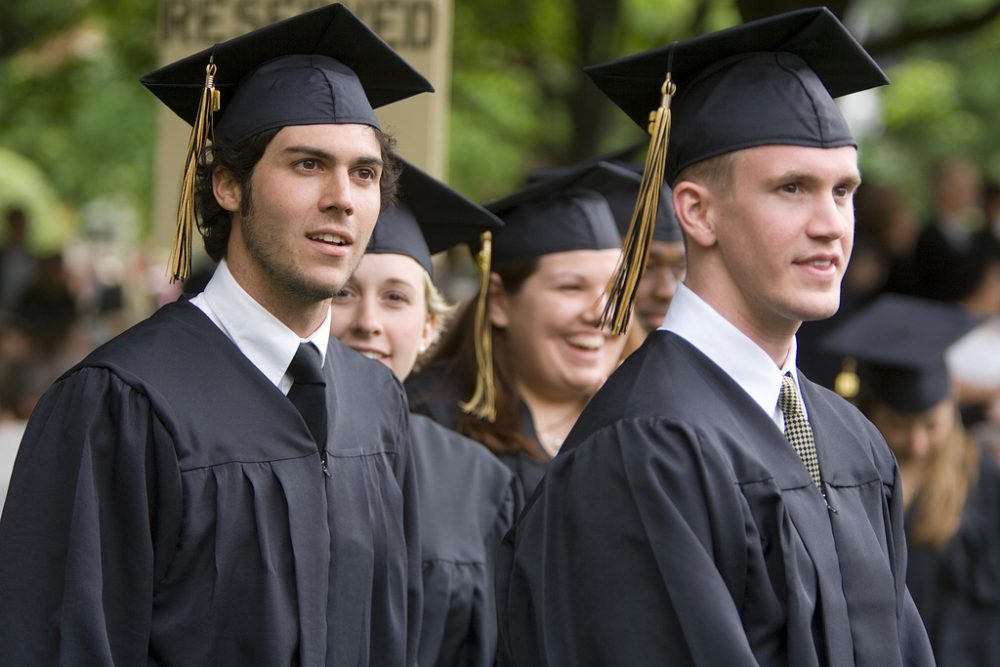 Former Virginia Governor Mark Warner, a potential Democratic candidate for president, told members of Wake Forest's Class of 2006 that they now have a responsibility to elevate the nation's political discourse to address problems ranging from the war in Iraq to American dependence on foreign oil. "Reject the cynicism and shallow posturing that dominate our media. Tune out the shouting and background noise that masquerade as meaningful commentary," he said. "Instead, wrestle with those complex issues, be respectful of those with whom you disagree, and always remember that despite all our differences there is that common bond that draws us together and binds us together as Americans."
Warner spoke to about 934 undergraduates and 649 graduate and professional school students who received their diplomas during the May 15 ceremony on Hearn Plaza, which began under cloudy skies with cool temperatures, but ended under bright sunshine. It was the first Commencement presided over by Wake Forest President Nathan O. Hatch, who took office last summer.
Warner, whose term as Virginia governor ended in January, gave no hint of his political future in his 15-minute address, but he did touch on themes that would likely resonate in a campaign. "We can, and should, disagree about the great issues of the day… but we should be able to disagree, for example, about the war in Iraq or our nation's foreign policy without impugning each other's patriotism. We should be able to disagree about serious social issues without questioning each other's underlying morality or religious sincerity. We should be able to disagree about tax or health care policy without questioning each other's basic compassion or motives. If you remember nothing else of what I say today, remember this: No one, no one in politics has a monopoly on virtue, on patriotism, or most importantly, on the truth."
The issues the United States faces, he said, are too important for name-calling and superficial debate. "America's diminished stature in the world and global terrorism, the hyper-competitiveness of the global economy, our dependence on foreign oil which threatens not only our nation's security but adds to global warming, and the massive budget deficits that undermine our ability to meet these challenges. Each of these problems are like snowballs rolling down the hill, each picking up their own momentum, any one of which, if we get wrong, could be a major national catastrophe.
"Unfortunately all these problems are approaching us simultaneously. To turn these perils into promise, to reap the huge potential of this interdependent world, we do need people who are passionate in their beliefs, dedicated to debate, but committed to forging consensus in the best traditions of our nation. As graduates of Wake Forest you are perfect candidates for this job."
Warner, a co-founder of Nextel Communications before entering politics, offered graduates one final word of advice: "Call your mother," he said to laughter and applause. "I say that not just because I was in the cell-phone business… you've got to acknowledge that you didn't get here alone." Warner, who received an honorary doctorate of laws degree, stayed on stage to shake the hand of each graduate as he or she crossed the stage.
In his remarks to the graduates, Hatch recognized President Emeritus Thomas K. Hearn Jr., and his wife, Laura, who were in the audience, and thanked students for welcoming him to campus, before offering some advice. "Do not expect to know today what your best opportunities will be in the future," he said.
"As much as we like to plan and prepare for what is ahead, to control our destiny, in all likelihood your best opportunities will come as a surprise. You have no way today of charting them or predicting them ahead of time. And today, if you limit yourself to what is already evident on the horizon, you may be in more control, but your future will be less interesting and less inspiring…. So today, my advice is simple: Relish the unknown, embrace the unexpected and welcome the joy of surprise."
Three retiring faculty members from the Reynolda Campus were recognized during the program: Jill Jordan McMillan, professor of communication, who joined the faculty in 1983; Gordon A. Melson, dean of the Graduate School of Arts and Sciences and professor of chemistry, who joined the faculty in 1991; and Charles L. Richman, professor of psychology, who joined the faculty in 1968. Professor of Philosophy Marcus B. Hester ('60), who joined the faculty in 1963, is also retiring, but was unable to attend the ceremony.
Three retiring faculty members from the Bowman Gray Campus were recognized: David A. Bass, professor of Internal Medicine — Pulmonary, Critical Care, Allergy, and Immunologic Diseases; W. Kenneth Haisty, associate professor of Internal Medicine — Cardiology; and Paul J. Meis, professor of Obstetrics and Gynecology — Maternal/Fetal Medicine.
In addition to Warner, honorary degrees were awarded to author and preacher Barbara Brown Taylor, who delivered the Baccalaureate address on Sunday, honorary doctor of divinity degree; Elias A. Zerhouni, director of the National Institutes of Health, honorary doctor of science degree; and Walter A. Orenstein, associate director of the Emory University Vaccine Center and a former director of the Centers for Disease Control and Prevention's National Immunization Program, honorary doctor of science degree.
Commencement Gallery