Cardinal Virtues
A call for harmony at a glorious Commencement
A crisp, clear sky smiled down May 17 on another picturesque Commencement. The setting provided a perfect stage for an address by Cardinal Francis Arinze on the role of religion in a world seeking harmony.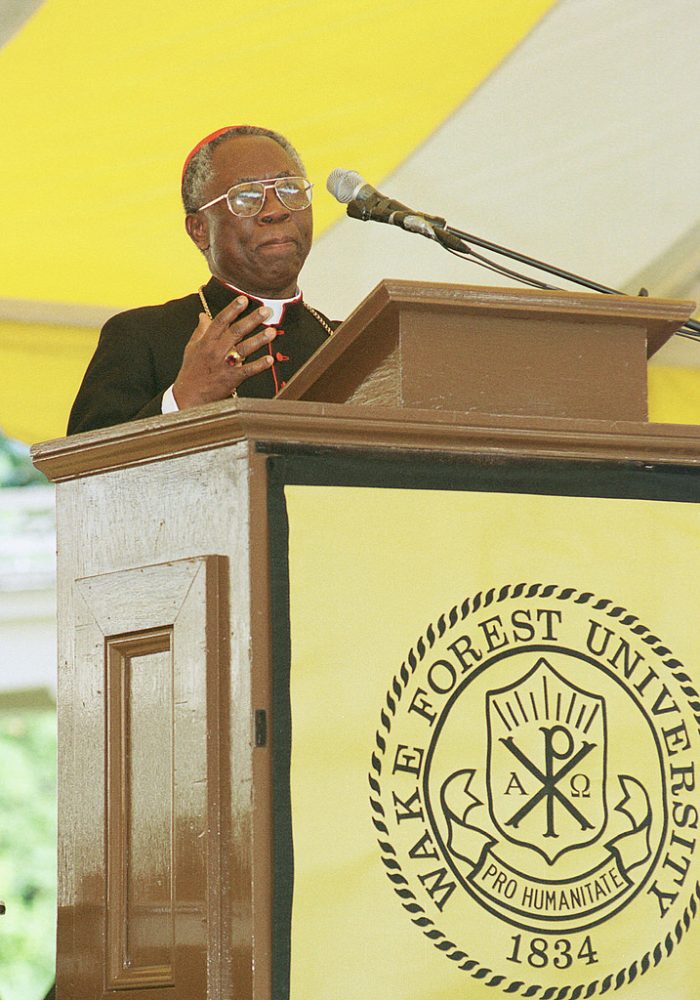 Arinze, president of the Roman Catholic Church's Pontifical Council for Interreligious Dialogue and frequently mentioned as a leading candidate to succeed Pope John Paul II, gave the Commencement address to the 807 undergraduates and 581 graduate and professional school students receiving degrees, along with a large crowd of their family members and friends.
Born in Nigeria, Arinze became an ordained priest in 1958, a bishop in 1965, and an archbishop two years later. He was made a cardinal by Pope John Paul II in 1985.
"A true believer … is known by love of neighbor, readiness to admit guilt where there has been any, openness to reconciliation, and positive promotion of solidarity between peoples, cultures, and religions," the prelate said. "Give us such people in large numbers, and our societies will be able to look to the future … with a sense of renewed hope. Let us pray … to give to each of these graduates, and to everyone of us, the grace to live our religious faith in such an authentic and generous way, that we may each in our various arenas in life contribute, and continue to contribute, to ever greater harmony."
Bowles was one of five honorary degree recipients in this year's ceremony. Also receiving honorary degrees were:
Richard Darman, a former presidential cabinet member;
Michael DeBakey, a surgeon and medical educator whose career includes innovations in cardiovascular surgery and the artificial heart;
Betty McCain, a legendary political activist in the state of North Carolina and the current secretary of the North Carolina Department of Cultural Resources;
Andrew Young, a hero of the civil rights movement, former mayor of Atlanta, and former ambassador to the United Nations.
Read more about the honorary degree recipients »
— Andrew Waters
Published in Wake Forest Magazine.
See all the coverage in the June 1999 magazine.
Commencement Gallery