One at a time
Senator challenges graduates to save the world by saving its children
Saving the world one child at a time is the challenge and responsibility facing the class of 1996, said U.S. Sen. Sam Nunn of Georgia at Commencement exercises on May 20.
Nunn, the ranking Democrat on two key Senate committees who is an internationally recognized expert on economic policy, defense and national security, said the fate of the globe is in the hands of those who take to heart the needs of children neglected in a turbulent society.
"Our technology is soaring, but our values are eroding," he said. "In 1996 the real heroes are not the stars out in Hollywood or athletes, but unpaid volunteers who take the time to read, listen and be a friend."
More than 1,200 candidates received undergraduate and graduate degrees. Edward Reynolds ('64), the first non-white student to enroll at Wake Forest, gave the baccalaureate sermon on May 19. Reynolds, who joined the faculty of the University of California at San Diego in 1971, currently lives in London where he directs the university's education abroad program.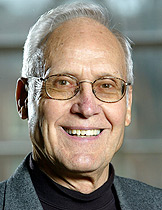 Five retiring Reynolda Campus faculty members with more than 100 cumulative years of service to the University were recognized at graduation. They are:
Thomas Elmore, education;
David Hills, psychology;
William Hottinger, health and exercise science;
George Trautwein, music;
John Williams, psychology.
Faculty receiving emeritus status from the Hawthorne Campus were:
Ivan Holleman Jr., associate professor of pathology;
Howard D. Homesley, professor of obstetrics and gynecology;
John R. Jacoway, clinical professor of pathology;
Laurence B. Leinbach, professor of radiologic sciences-radiology;
Eugene B. Linton, clinical professor of obstetrics and gynecology;
Milton Raben, professor of radiologic sciences-radiation oncology.
Nunn also was presented with an honorary doctor of laws degree. Others who received honorary degrees were:
Virginia Niblock Britt ('70, MAEd '73), former executive director of Crisis Control Ministry, doctor of divinity;
Weston Poole Hatfield ('41), Winston-Salem attorney and life trustee, doctor of laws;
James Walter Mason (JD '38), Laurinburg attorney and life trustee, doctor of laws;
Christian Frederick Beyers Naudé, human rights activist, doctor of divinity;
Werner Platzer, anthropologist and researcher, doctor of science;
Louis Wade Sullivan, president of the Morehouse School of Medicine, doctor of science;
Hon. Hiram Hamilton Ward (JD '50), senior district judge for the Middle District of North Carolina, doctor of laws.
Published in Wake Forest Magazine.