A 'generation of firsts'
Technology the theme of Commencement 2000
Beautiful weather enveloped Wake Forest's first Commencement of the new millennium May 15. The golden morning seemed a perfect metaphor of the bright promise of the University's first Internet generation of leaders.
This was the famous Class of 2000 — the class after which the plan, implemented four years ago, that revolutionized undergraduate education at Wake Forest had been named. They were the first graduates to benefit fully from the plan's technology initiative, which has provided laptop computers to each entering student and ubiquitous network connections across campus. The fact that this was the first Wake Forest Commencement to be broadcast live over the Internet was all the more fitting.
John Chambers, CEO and president of Cisco Systems, a worldwide leader in Internet networking, delivered the Commencement address to the 795 undergraduate and 598 graduate and professional school degree recipients. He told the graduates (one of whom was his daughter, Lindsay) that they were entering the world at the beginning of a second industrial revolution.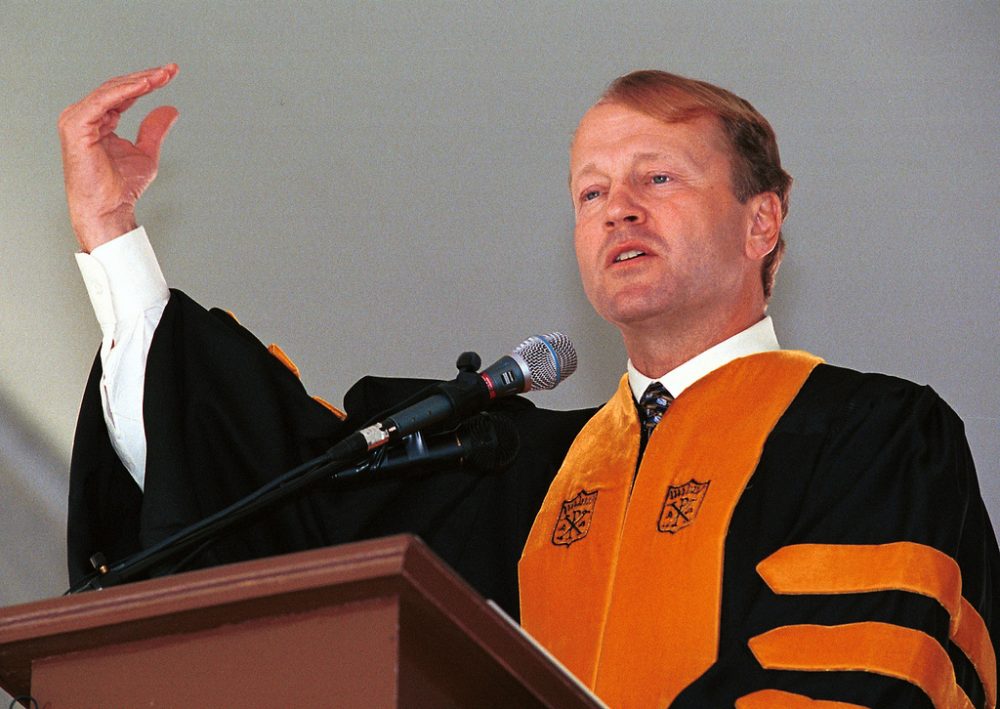 "You are a generation of firsts in so many ways," Chambers told graduates. "You are the first to graduate in the new century. You're the first really networked class, a class that understands … what this new technology means to your future."
Through a huge investment of capital, the first industrial revolution, he said, brought together people and machines and raised the productivity of this country, driving up the standard of living.
"This second industrial revolution will have every bit as much impact," he continued. "You will see the same type of capital investment. … It will bring people together in virtual organizations or companies on a global basis. The speed of change will surprise us all."
Chambers, who was recognized in 1999 by Business Week magazine as "Mr. Internet," received an honorary doctor of laws degree during the ceremony. Other honorary degree recipients were:
The Rev. Frederick Buechner, Presbyterian minister and author, doctor of humane letters;
Thomas W. Lambeth, executive director of the Z. Smith Reynolds Foundation, doctor of laws;
Claude Lenfant, director of the National Heart, Lung and Blood Institute with the National Institutes of Health, doctor of science;
Helen Lewis, an authority on Appalachian life and culture in the twentieth century, doctor of divinity;
A.E. Dick Howard, constitutional law scholar and the White Burkett Miller Professor of Law and Public Affairs at the University of Virginia School of Law, doctor of laws.
— Christine Underwood
Published in Wake Forest Magazine.
See all the coverage in the June 2000 magazine.
Commencement Gallery