'Do the right thing'
In his first Commencement address as U.S. Secretary of State, Colin Powell told approximately 1,600 graduates on May 17 to "do the right thing," a concept that applies to their personal lives as well as the challenges facing the country.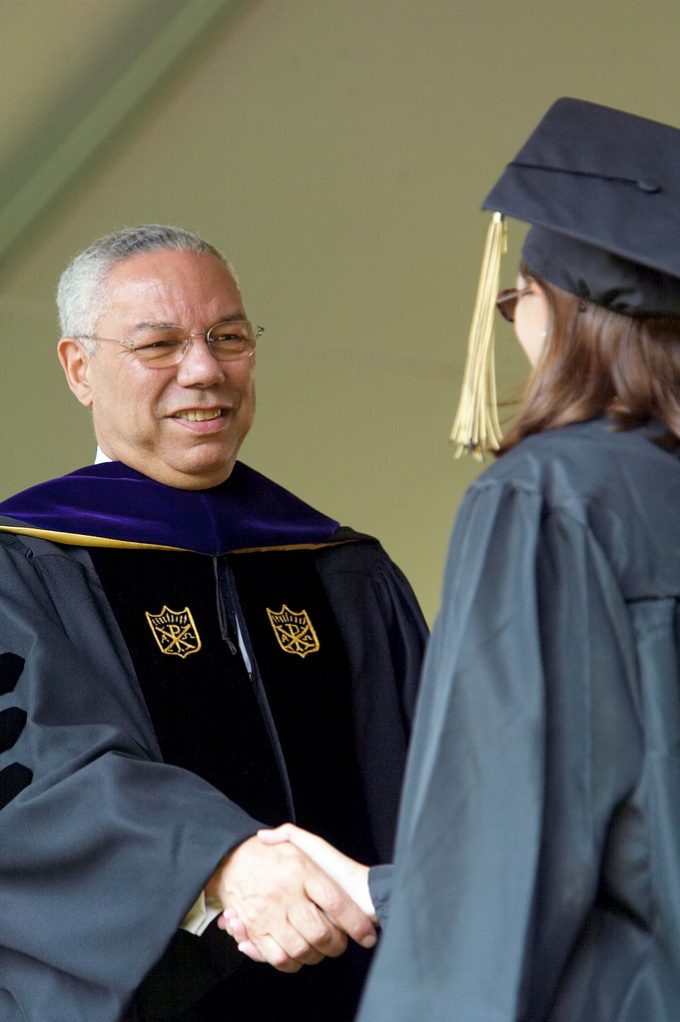 "To deal with the troubles and confusion life can bring, we all need to be morally well armed," Powell said at Wake Forest's 162nd graduation exercises. "Moral clarity is a necessary first step in dealing with complexity. Neither individuals nor nations can fight something with nothing. We can only defeat evil if we have the capacity to build more powerful good. We have to know what we are for. We have to know and to do, always, what's right."
Speaking to an estimated crowd of 15,000 on the University Plaza, Powell told the graduates that "Wake Forest has prepared you with a quality education … that will never be lost, and taught you the value of service to others. You've been taught to work for goals that transcend the individual: service to community, service to country, service to mankind. Your motto, 'Pro Humanitate,' says it all. Never forget the obligation those two words place upon you and upon your heart."
Following his address, Powell received an honorary doctor of laws degree. He remained on stage to shake the hand of each undergraduate as they received their diplomas, and he participated in the ROTC commissioning ceremony.
In his remarks to the graduates, President Thomas K. Hearn Jr. spoke of the care and support he had received while recovering from a brain tumor.
"We must never reach the point of abandoning the better and more hopeful possibilities of life, even in great difficulty," he said. "We must never fail to send our prayers and good wishes to those in need. 'Pro Humanitate' is a gift that grows from personal relationships. I am here as a testament to this ministry. And when you someday find yourself in a place of need, that same spirit will be there to serve and to heal you."
In addition to Colin Powell, four others received honorary degrees:
John R. Claypool, professor of homiletics at Mercer University's McAfee School of Theology, honorary doctor of divinity degree;
Geneva B. Brown, educator and member of the Winston-Salem/Forsyth County Board of Education, honorary doctor of humanities degree;
M. Joycelyn Elders, former U.S. Surgeon General and Distinguished Professor of Public Health at the University of Arkansas, honorary doctor of science degree;
and Lewis Lockwood, the Fanny Peabody Research Professor of Music at Harvard University, honorary doctor of fine arts degree.
Retiring faculty recognized at Commencement were, from the Reynolda Campus:
James P. Barefield, Wake Forest Professor of History; Read more »
John V. Baxley, Wake Forest Professor of Mathematics; Read more »
Elmer K. Hayashi, professor of mathematics;
Buddy O. Herring, professor of law;
George M. Holzwarth, professor of physics;
John H. Litcher, professor of education;
and Philip J. Perricone, professor of sociology.
Recognized from the Bowman Gray Campus were:
M. Gene Bond, professor of neurobiology and anatomy;
David W. Gelfand, professor of radiologic sciencesradiology;
Christine A. Johnson, professor of pediatrics;
Timothy C. Pennell, professor of surgical sciences-general surgery;
and Lee F. Rogers, professor of radiologic sciences-radiology.
Commencement Gallery