Message to grads: Be lifelong learners
By Kerry M. King ('85), Communications and External Relations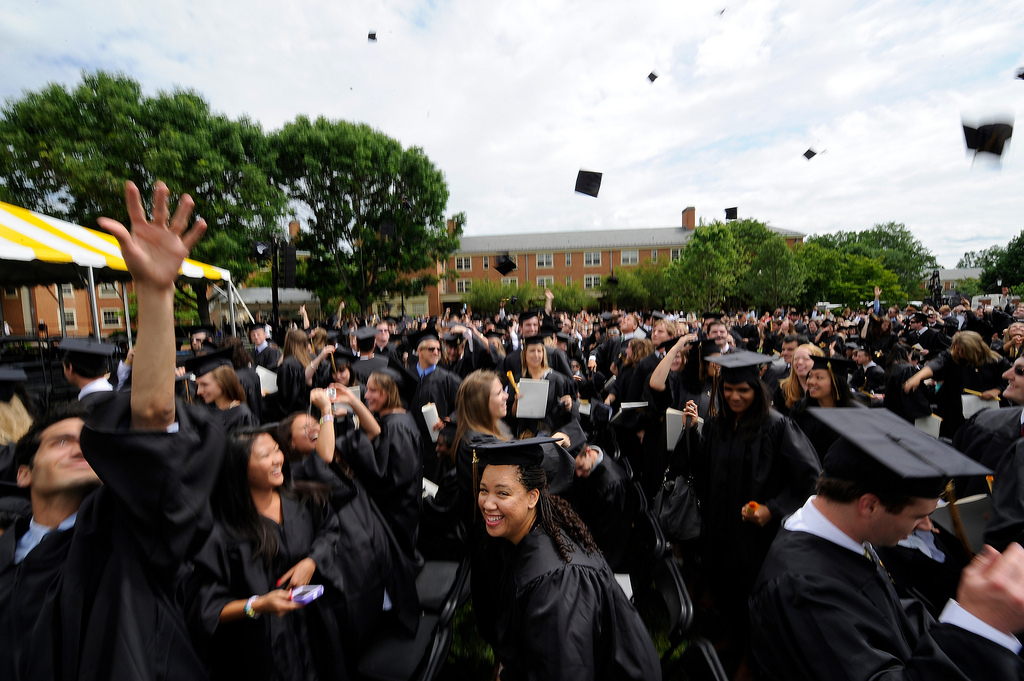 Monday was the start of a big week for Anna Walker and Joe Hester. Five days after graduating from Wake Forest, they're getting married in Winston-Salem.
They were among about 945 undergraduates and 700 graduate and professional students to receive diplomas during Wake Forest's commencement ceremony on Hearn Plaza on Monday morning, May 16.
"The last four years have been the time of my life when I've experienced the most growth as a whole person," said Hester, a biology major and philosophy minor from Dublin, Va. "I've gotten plugged into a great group of friends and learned from them. It's been a real blessing that I'll cherish for the rest of my life."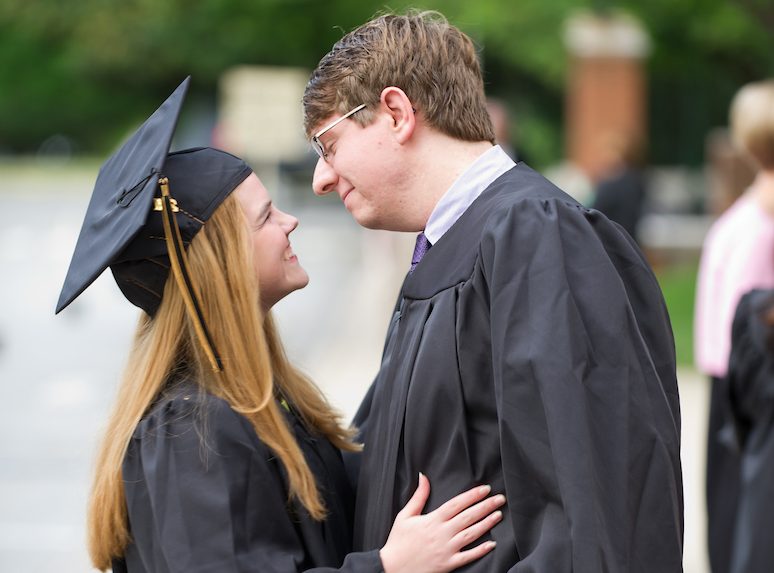 Hester and Walker met their first week at Wake Forest — during the Pre-School campus ministry conference — and began dating their sophomore year. Walker, a music major and mathematics minor, is originally from Orlando, Fla, They became engaged during the Concert Choir's tour of Rome, Italy, during spring break in 2010. Both will begin the Master Teacher Fellows program at Wake Forest in June.
The commencement ceremony returned to Hearn Plaza after being forced indoors to Lawrence Joel Veterans Memorial Coliseum last year because of rain. About 12,000 family members and friends of the graduates watched the two-and-a-half hour ceremony that began under partly cloudy skies and ended under partly sunny skies, with comfortable temperatures throughout the program.
For the second year in a row, graduates wore eco-friendly caps and gowns, made from recycled plastic bottles. Kara Peruccio and Elizabeth Bost were sporting pink shoes — a nod to their sorority, Phi Mu — along with their black gowns. Bost comes from a long line of Wake Foresters: "My grandfather, two uncles, and my mother all went to Wake Forest, so it a means lot to me to be a part of the Wake Forest family."
Bost, a psychology and German double major from Apex, N.C., will be working in information systems at Wake Forest this summer before pursuing a master's degree in marriage and family therapy at East Carolina University. Peruccio, a history major from Manchester, Conn., is spending the summer as a research assistant with history professors Monique O'Connell and Nathan Plageman; she hopes to eventually pursue a Ph.D. in history
"I can't believe I'm graduating today, it's flown by. I came to visit Wake as a junior in high school, and I fell in love with it the second I stepped on campus," Peruccio said. "It's hard to believe I'm leaving. It's been a wonderful four years, academically and socially."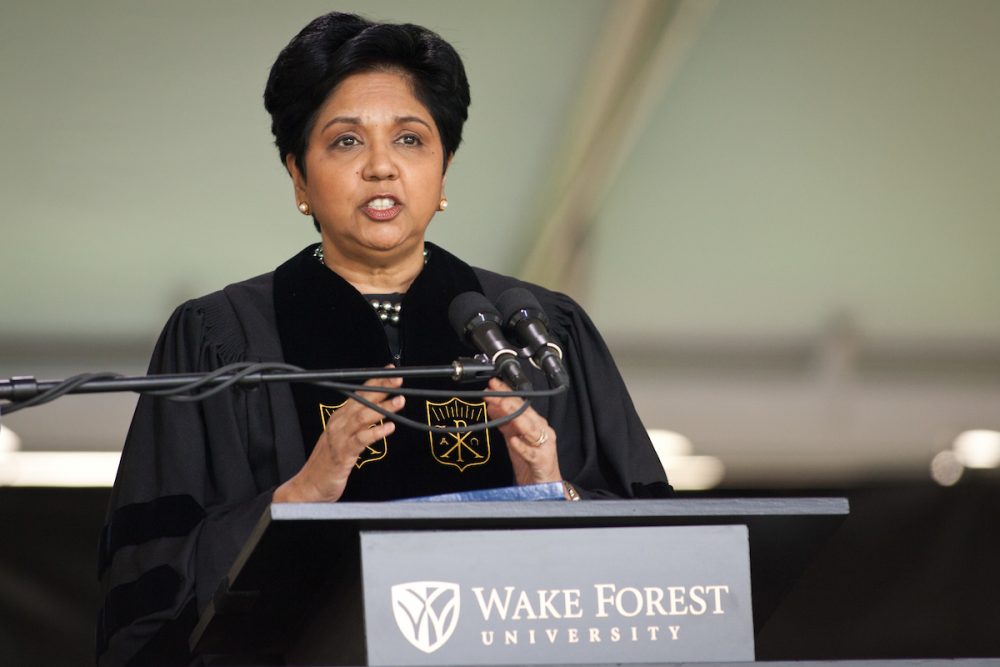 In her commencement address, "For Humanity," Indra K. Nooyi, the chairman and CEO of PepsiCo, encouraged graduates to remain open to every opportunity that comes their way. "Never stop growing intellectually; don't lose your curiosity, your quest for learning," she said. "To be the best you can be, you have to be a lifelong student."
Nooyi paid tribute to two of her predecessors at PepsiCo — Steve Reinemund, dean of the Schools of Business, and the late Wayne Calloway ('59), who served as chairman of Wake Forest's board of trustees in the 1990s. Using examples from her own career in business, she warned graduates not to become too narrowly focused on a certain career plan because they could miss opportunities that will could lead to greater things.
"Keep your childlike curiosity and never stop learning. Grasp every opportunity that comes your way and give 110 percent to generate these opportunities. Stay positive about yourself (and) assume positive intent about other people. It creates a virtuous circle of common humanity where you get what you give. If you do all these things, I have no doubt that you will make a different and help change the world."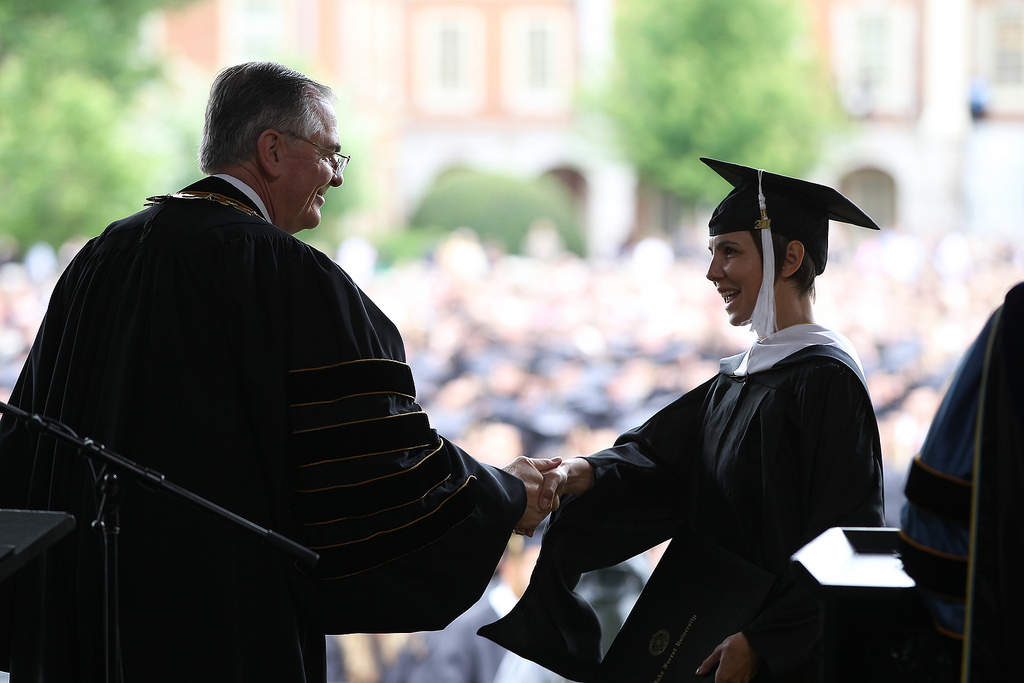 President Nathan O. Hatch, in his remarks to the Class of 2011, said he hoped their Wake Forest education had whetted their appetite for a life of learning. "The very reason a University exists—its heart and soul—is to inspire passion to learn, explore, discover, understand.
"The best dividends of learning do not come to the shallow explorer, but to the one who devotes focused attention," Hatch said. "Do everything in your power to fan the flame of curiosity for yourself and for others."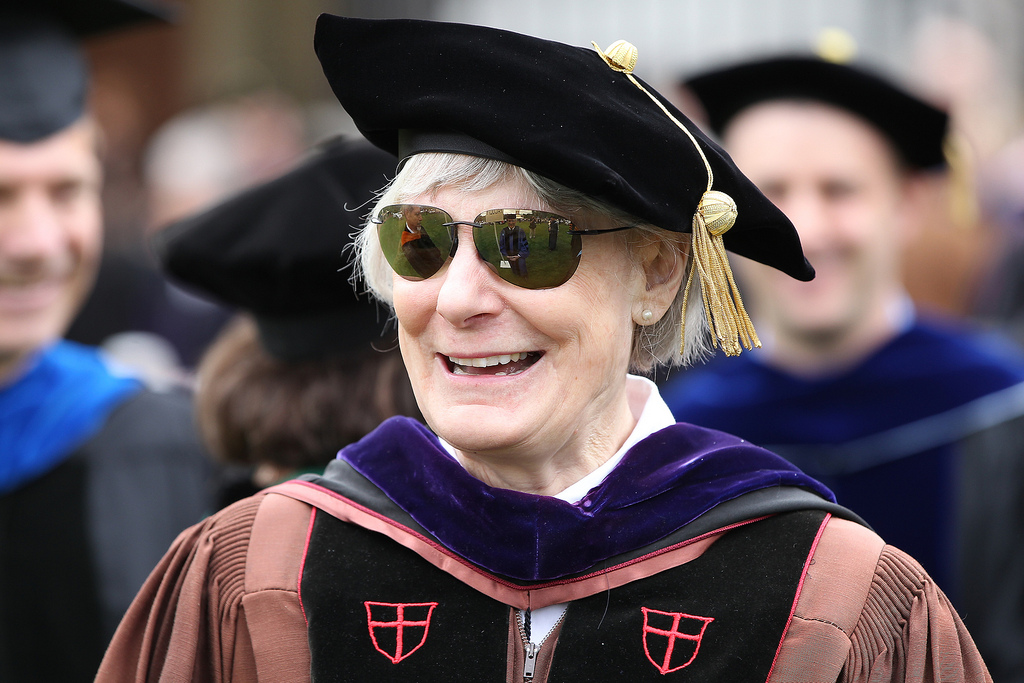 Provost Jill Tiefenthaler recognized several retiring faculty members.
Honorary degrees were awarded to Nooyi; William K. Suter, clerk of the U.S. Supreme Court; Rebecca S. Chopp, president of Swarthmore College; and Andrew C. von Eschenbach, former commissioner of the Food and Drug Administration and former director of the National Cancer Institute. Suter spoke at the School of Law's Hooding Ceremony. Chopp gave the Baccalaureate address. Von Eschenbach spoke at the Graduate School of Arts and Sciences Honors and Awards Ceremony.
As parents and friends streamed onto Hearn Plaza early Monday morning, Sue Wild of St. Louis, Mo., reflected on her daughter's experience at Wake Forest. Emily Wild, a biology and art history major, is going to medical school at Tulane University.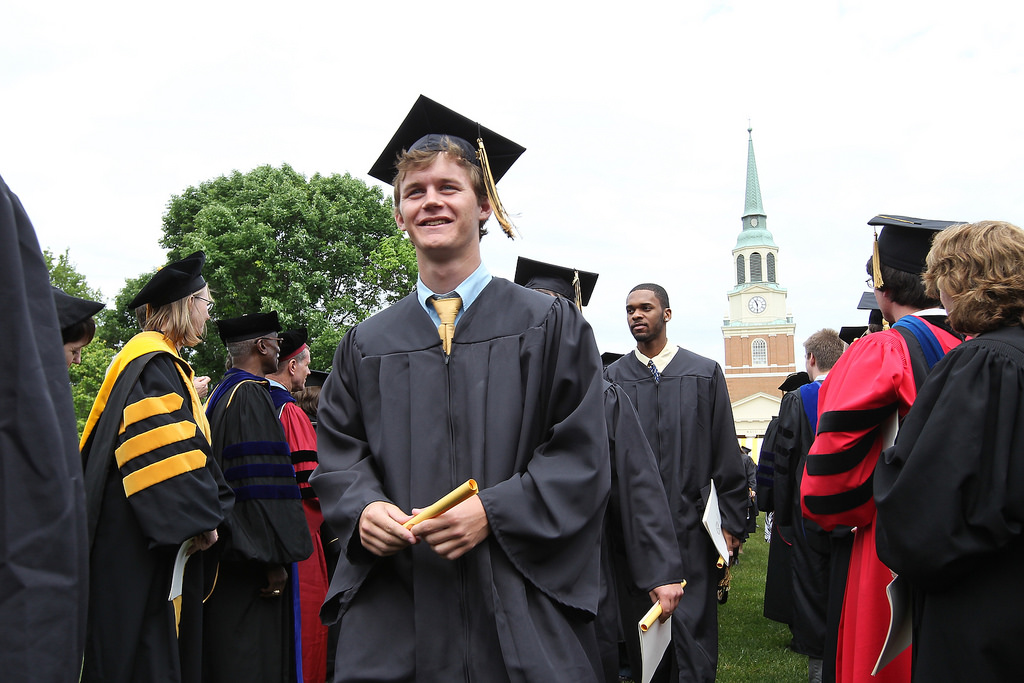 "I got a little teary eyed at the baccalaureate service yesterday, so I'm sure there will be more tears today," Sue Wild said. "This place has been wonderful for my daughter."
Nearby, Alison Sielbeck posed for photographs with her family before lining up with other graduates. Sielbeck, a business enterprise management major, already has a job lined up in investment banking back home in Nashville, Tenn. "It's the end of a long and wonderful journey, full of friendships and so many good times," she said.