Worlds without walls
Essay by senior Emily Brewer ('98) from Wake Forest Magazine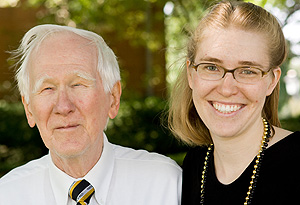 As I close the book on my senior year, I find that the manna of my education at Wake Forest has not emanated from the myriad hours I have amassed inside the halls of Tribble, Carswell, and Winston, though they are important. And while I've at times found the contours of the library more familiar than those of my bedroom, it is not the time that I have spent buried in books and research that will endure most vividly in my memory after the excitement around graduation lulls.
During the past four years, the University has opened its arms to the wisdom of William Rehnquist, James Earl Jones, Tony Campolo, and Harold Kushner; the music of Itzak Perlman, George Winston, They Might Be Giants, and the Indigo Girls; the greatness of Diane Sawyer, Ted Koppel, A.R. Ammons, Alec Baldwin, and our own Maya Angelou; and the nationally renowned talent of our basketball and debate teams. Life has been rich.
While getting to know professors in the classroom setting has been rewarding, one-on-one discussions outside of class have been invaluable. Without the aid of my notes, I may not remember individual lectures, but I will remember Dr. Olga Valbuena taking our Shakespeare class to see The Winter's Tale at the North Carolina Shakespeare Festival, or Dr. Barry Maine having our seminar class over to his home for paper presentations, or Mr. Justin Catanoso meeting our investigative reporting class at a local coffee house to discuss journalistic ethics in All the President's Men.
While I would not trade my days on the campus in Winston-Salem, the pinnacle of my Wake Forest education has been my semester abroad at the University house in Venice. Art history was educational, but seeing the Byzantine mosaics in Ravenna was inspirational; studying international politics was engaging, but witnessing an Italian Communist Party gathering was spellbinding; studying the Renaissance was interesting, but touring Florence was singular and vivifying; conjugating Italian verbs was tedious, but interacting with Italian-speaking peers was exhilarating. And I learned how it feels to be the outsider in a community.
Before coming to college, I had visions of students in furious debate on the lawn, impromptu musicians playing under a tree, and professors and students sharing coffee and dialogue together in a café. And although I've not found today's campus to match this image, I have found the opportunities offered here to be opulent and abundant, my education brimful and invigorating, and my life forever enriched.
English major Emily Brewer ('98) of Asheville, North Carolina, will spend next year as an editorial fellow with The Philanthropy Journal in Raleigh.
Published in Wake Forest Magazine.
See all the coverage in the June 1998 [PDF] magazine.