Wake Forest graduates 1,600 students
Commencement ceremony held inside for first time since 1991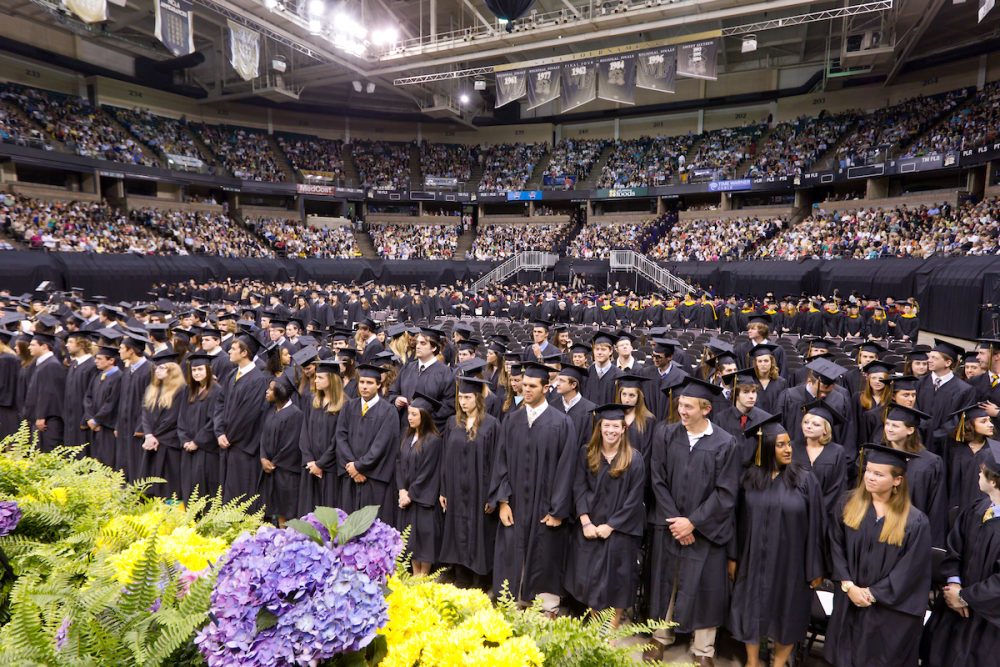 — By Kerry M. King ('85)
Office of Communications and External Relations
The odds finally caught up with Wake Forest's Commencement ceremony.
For the first time since 1991, rain forced University officials to move the ceremony from Hearn Plaza to Lawrence Joel Veterans Memorial Coliseum.
About 1,600 May graduates, plus several hundred students who finished their degree requirements last December and August, received their diplomas on May 17.
"It's a little bittersweet," said Christina Skoglind, a communication major from Scottsdale, Ariz., who plans to attend graduate school. "I'm very excited, but a little nervous and sad to be leaving. It's been a great place to study, and I've loved every minute of it."
Graduates filled chairs on the coliseum floor, while thousands of parents, other family members and friends filled the coliseum's lower and upper levels. Family members often cheered or called out names as about 950 undergraduates walked across the stage at one end of the coliseum to receive congratulations from President Nathan O. Hatch and Dean of the College Jacquelyn Fetrow.
It was only the second time that Commencement has been held in Joel Coliseum and only the fourth time that Commencement has been held inside since the ceremony was moved from Wait Chapel to the main plaza, now Hearn Plaza, in 1966.
L.D. Williams graduated on the same floor where he played basketball for four years. "The thing that stands out to me the most is being able to play under the great Skip Prosser for a year, the things that he taught me are priceless," said Williams, who received a degree in communication and hopes to play professional basketball either in the NBA or overseas. "Wake Forest was an all-around great experience, and I wouldn't trade it for the world."
In his Commencement address, "Opportunity and Obligation," American Express Chairman and CEO Kenneth I. Chenault urged graduates to live their lives according to Pro Humanitate. "Your school's motto is not a meaningless Latin phrase. For humanity, it is who you are."
"You leave this campus with more than memories," Chenault said. "You leave with a mission to take what you've learned and apply it. It's not just an opportunity. It's an obligation to serve and to lead; an obligation to be leaders and to help shape society and the future by serving it."
Also during the ceremony, seven students were commissioned second lieutenants in the U.S. Army — standing on the stage underneath an American flag and Wake Forest's ACC basketball championship banners — and received a standing ovation from the audience.
Steve and Merritt Sawyer traveled from Menlo Park, Calif., to watch their daughter, Kendra, receive her degree in psychology. "We're incredibly proud and gratified for the experience that she's had here," Steve Sawyer said. "We've had wonderful visits here, and Wake captures the campus community that we'd hoped she'd have in college."
Lauren Turner, who received a Master of Medical Science degree from the Physician Assistant Studies program, was one of about 600 graduate and professional school students to receive degrees. "It's been a wonderful experience," said Turner, who is looking for a job as a physician assistant in Charlotte. "The faculty has been very supportive in helping us further our education and finding jobs."
In his remarks, Hatch talked to graduates about the "virtue and vice" of ambition and urged them to "link (their) hopes and dreams to a larger purpose."
"How do you relate the drive for achievement, to make a name for yourself, with the commitment to live for the common good, Wake Forest's mottoPro Humanitate?" Hatch asked graduates. "As you leave Wake Forest today, I call upon you to unleash all of your energy and ingenuity upon the challenges of our time. Find your passions and fix them upon large and important purposes."
As the Commencement ceremony ended and the faculty processed off the coliseum floor, one student broke the solemnity with a cheer and tossed his mortarboard in the air, unleashing more cheers and tossed mortarboards by his classmates in the Class of 2010.