Wake Forest achieves $600 million goal early; campaign to continue for another year
By Kevin Cox
Posted May 16, 2005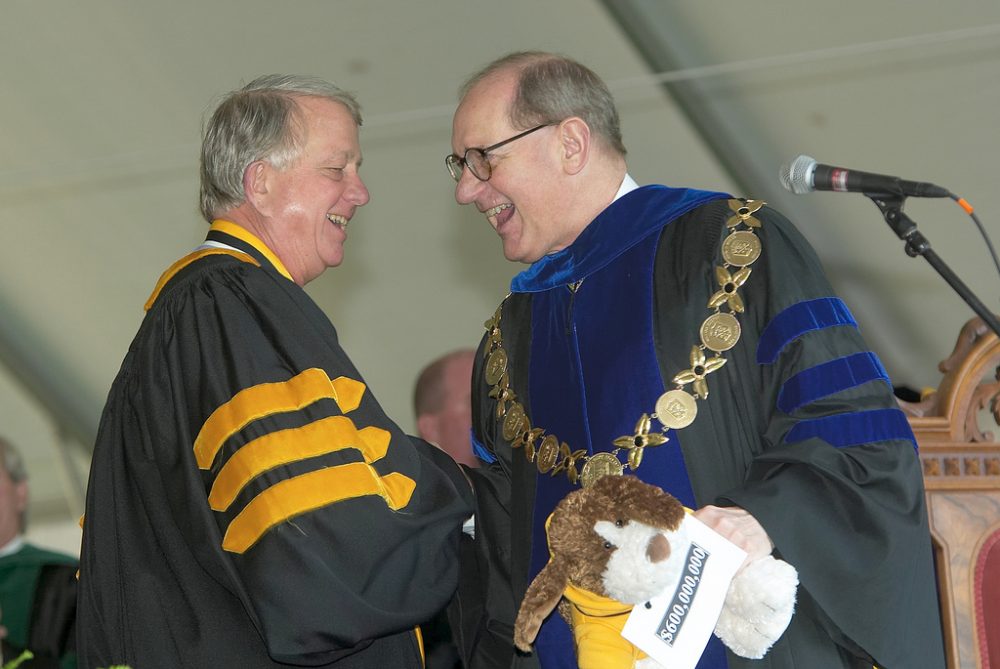 Wake Forest University celebrated commencement May 16 with the announcement that it had met its $600 million capital campaign goal early, thanks in part to a major gift from retiring Wake Forest President Thomas K. Hearn Jr. and his wife, Laura.
Hearn, who came to Wake Forest as president in 1983, retires June 30.
Launched publicly in 2001, the "Honoring the Promise" capital campaign will continue as scheduled through June 2006, with a special focus on endowment gifts that provide for student financial aid and faculty support. Wake Forest has not yet raised the full amount sought in those two categories.
Recent gifts, including a major planned gift of an undisclosed amount by the Hearns, enabled Wake Forest to meet and exceed its $600 million goal.
The total raised at this point is $617 million. The Reynolda Campus has raised $361 million and the Bowman Gray Campus has raised $256 million.
Murray C. Greason Jr., chairman of the Wake Forest Board of Trustees, made the announcement during commencement.
"Since Dr. Hearn has always seen this campaign effort as the final chapter of his presidency, it is especially gratifying for me to announce today that, 13 months ahead of schedule and as testimony to Dr. Hearn's visionary leadership, the campaign goal of $600 million has been met," Greason said.
He added that the Hearns made their gift after looking for a lasting way "to express what Wake Forest has meant to them over the years."
The Honoring the Promise campaign is the second successful major fundraising effort of Hearn's 22-year tenure at Wake Forest. The Heritage and Promise campaign, which concluded in 1995, raised $173 million for the Reynolda Campus.
In addition to student financial aid and faculty support, the current campaign's priorities have included raising unrestricted funds for a variety of ongoing activities, generating funds for specific building needs and raising funds for the Wake Forest University Baptist Medical Center.
The need for financial aid continues to grow as the university holds fast to its need-blind admissions policy for undergraduates, which provides for students to be considered for admission regardless of their ability to pay tuition. University officials have explained in the past that Wake Forest's endowment per student is below that of other top national universities. Excluding medical school endowment, Wake Forest's endowment per student stood at $70,000 in 2002-2003, compared to more than twice that amount at such schools as Duke and Vanderbilt.