Civil rights attorney, defibrillator developer among honorary degree recipients
By Maggie Barrett
Posted May 16, 2005
Wake Forest University awarded three honorary degrees during its commencement ceremony May 16. The 9 a.m. ceremony held on Thomas K. Hearn Jr. Plaza (the Quad) featured golf legend and Wake Forest alumnus Arnold Palmer as speaker.
Oliver White Hill, a civil rights attorney and Presidential Medal of Honor recipient, was awarded an honorary doctor of laws degree. Hill's 60-year career encompassed landmark civil rights cases including those involving desegregation on public transportation and the right of black citizens to serve on juries and participate in primary elections. His most notable case, Davis v. Prince Edward County Schools, became part of the Supreme Court's decision on Brown v. Board of Education. Hill served as director of the Virginia chapter of the NAACP for 20 years and in 1948, he became the first black elected to the Richmond City Council since the Reconstruction Era. Hill was unable to attend the ceremony.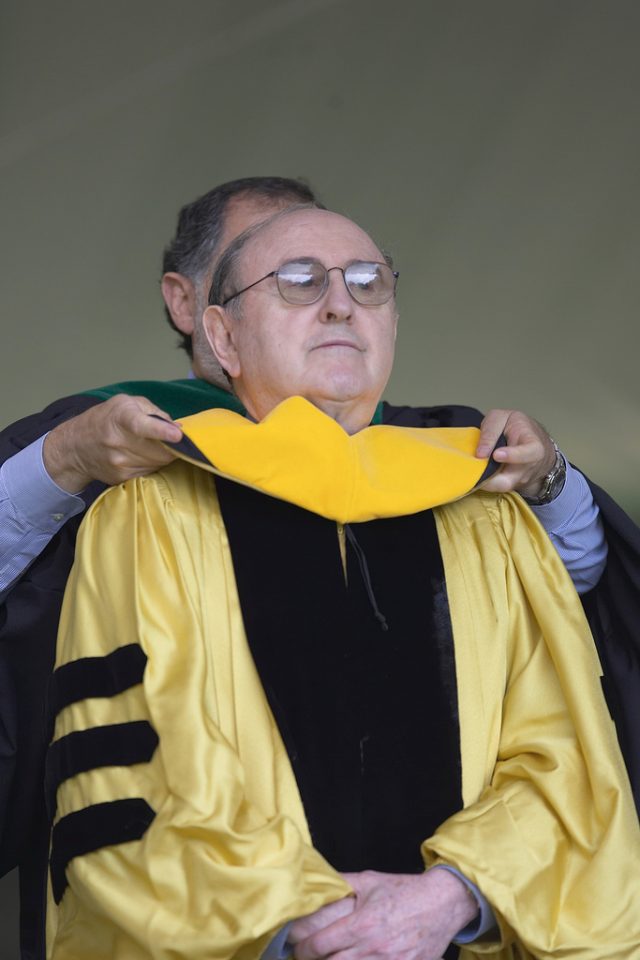 Dr. Bernard Lown, professor of cardiology emeritus at Harvard School of Public Health, received an honorary doctor of science degree. A pioneering cardiologist who established the world's first coronary unit, Lown is credited with inventing the defibrillator and introducing the drug Lidocaine to control heartbeat irregularities. In 1985, he won the Nobel Peace Prize for his efforts in co-founding International Physicians for the Prevention of Nuclear War (IPPNW). Lown addressed graduates of the School of Medicine at their hooding ceremony May 15.
Wake Forest graduate Michael Dennis Piscal, president and founder of the nonprofit organization Inner City Education Foundation (ICEF), was given an honorary doctor of humanities degree. Under the umbrella of ICEF, Piscal established View Park Preparatory Accelerated Charter Schools in Los Angeles. The schools are cost-free, college preparatory alternatives for the children of working-class families in one of the worst performing school districts in Los Angeles. Since Piscal began ICEF, View Park Prep has expanded from one school to three, with 70 to 80 percent of all students performing above the national average on reading and mathematics standardized tests. Read more »
The graduation ceremony was Thomas K. Hearn Jr.'s last as president of Wake Forest. Hearn, one of the longest serving university presidents in the nation, will retire June 30 after 22 years as president of the university.