Arnold Palmer shares golf, life lessons with WFU graduates
By Jacob McConnico
Posted May 16, 2005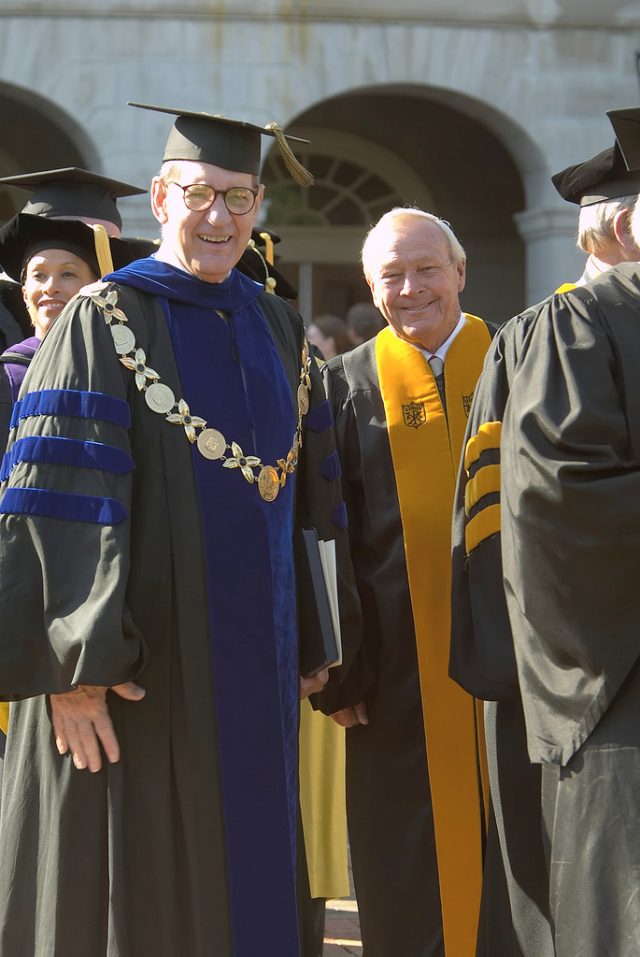 Arnold Palmer, one of the most beloved golf legends of all time and a Wake Forest University alumnus, shared some of his own secrets to success with Wake Forest's 2005 graduating class and challenged them to make a difference in their world during the university's May 16 commencement ceremony.
Palmer gave the university's 163rd commencement address to 1,494 graduates during the 9 a.m. outdoor ceremony on the university's Thomas K. Hearn Jr. Plaza (the Quad). Approximately 13,000 friends and family of graduates attended the event, which was Wake Forest president Thomas K. Hearn Jr.'s last as president of the university. Hearn, one of the longest serving university presidents in the nation, will retire June 30 after serving 22 years as president of Wake Forest.
"I came from modest circumstances, and I was determined to be successful in my adult life," said Palmer, whose father was a golf professional and course superintendent at Latrobe Country Club in Pennsylvania. "I didn't know then that golf would be my life and that the talent I had, coupled with dedication and hard work, would take me to the heights of my profession. Each one of you, realize and understand that you are now in a position to make a difference. Make a difference in the world you are entering.
"It can and will happen, provided you have confidence in yourself and work at it with dedication and determination every minute of your lives. You owe this to yourselves, to your parents and to the families you will have in the years to come."
Palmer told the university's 890 undergraduates and 604 graduate students that although some of his greatest successes came many years ago, he still has a handle on what works in a new and changed world.
"Certainly, there are many things that I cannot fully comprehend, but there are still the absolutes that transcend place and time," Palmer said. "Hard work will always yield positive results. Be fully aware of the world around you. Act purposefully on your strongest perceptions, and then with no regrets."
Self confidence, a characteristic that Palmer has long promoted to individuals bent on improving their golf game, is something he said can serve people well in life.
"There is no way you can focus your mind and efforts to succeed if you're brimming over with self-doubts," Palmer said. "Your level of performance has a way of living up to prior expectations and, if you start off believing you're going to have a bad day, you will. Errors tend to multiply and, if you have a bundle of self-doubts, you won't be able to cope with the problems and the failure that will follow."
Palmer, who played golf for Wake Forest from 1948 to 1950 before joining the U.S. Coast Guard for a three-year stint, shared a story with graduates about his best friend and Wake Forest teammate Marvin "Buddy" Worsham, who died in a car accident in 1950. The event filled Palmer with shock and grief, prompting him to leave Wake Forest early for the Coast Guard.
He returned briefly to Wake Forest and won the first-ever Atlantic Coast Conference Championship in 1954. Palmer reached the pinnacle of his amateur career in 1954 with a victory in the U.S. Amateur Championship.
Throughout his life, Palmer has maintained strong ties to Wake Forest, serving on its board of trustees from 1983 to 1986, 1988 to 1991 and 1993 to 1997. He was a tri-chair of the university's Heritage & Promise Capital Campaign, which raised $173 million for the university in the early 1990s. He was elected a life trustee of the university in 1997. Palmer endowed Wake Forest with its first golf scholarship in 1960 in honor of his close friend Bud Worsham.
The university has honored Palmer with the Distinguished Alumni Award in 1962 and an honorary doctor of laws degree in 1970. A university residence hall was named in honor of him in the early 1980s. Palmer is a member of the Wake Forest Sports Hall of Fame.
He said his long association with Wake Forest had afforded him the opportunity to know many of the talented and dedicated men and women who have played parts in the progress of the university.
In perhaps the day's most tangible display of dedication to the university, it was announced during the ceremony by Murray C. Greason Jr., chairman of the Wake Forest Board of Trustees, that the university had met its $600 million capital campaign goal early, thanks in part to a major gift from retiring Wake Forest President Hearn and his wife, Laura. Recent gifts, including a major planned gift of an undisclosed amount by the Hearns, enabled Wake Forest to meet and exceed its $600 million goal. The total raised at this point is $617 million.
Launched publicly in 2001, the "Honoring the Promise" capital campaign will continue as scheduled through June 2006, with a special focus on endowment gifts that provide for student financial aid and faculty support. Wake Forest has not yet raised the full amount sought in those two categories.
During his closing, Palmer implored graduates to make "an all-out effort to get back to the basic values and virtues of humanity." He said this is crucial if society wants to give future generations the quality of life for which our forefathers worked.
"I don't despair of today's young people," Palmer said. "I just ask all of you to seek your places in the world, to accept the responsibility that is being placed on your shoulders. I appeal to you to try to restore a more kind and gentle atmosphere to this world of ours.
"So, please, go forth from your college careers armed with a determination to truly make our world a better place to live. Tomorrow belongs to you."
Arnold Palmer Audio