Five receive honorary degrees
Honorary degrees were awarded to Senator John McCain and four other persons during Commencement May 20.
Baccalaureate speaker Marian Wright Edelman, founder and president of the Children's Defense Fund, received an honorary doctor of humanities degree during the Baccalaureate Service Sunday morning in Wait Chapel.
McCain and three others — Floyd Abrams, one of the country's leading First Amendment attorneys; F.M. Kirby II, president and director of the F.M. Kirby Foundation; and David Satcher, U.S. Surgeon General from 1998-2002 — were recognized during the Commencement program Monday morning. McCain, Abrams and Kirby received honorary doctor of laws degree. Satcher received an honorary doctor of science degree.
Under Edelman's leadership, the Washington-based Children's Defense Fund has become the nation's strongest voice for children and families. A graduate of Spelman College and Yale Law School, she was the first black woman admitted to the Mississippi Bar. In the mid 1960s, she directed the NAACP Legal Defense and Educational Fund and later served as counsel for the Poor People's Campaign organized by Dr. Martin Luther King, Jr. She founded the Washington Research Project, a public interest law firm and the parent body of the Children's Defense Fund, which was founded in 1973. Mrs. Edelman has received a MacArthur Foundation Fellowship, the Albert Schweitzer Humanitarian Prize and the Presidential Medal of Freedom, the highest White House award for civilians.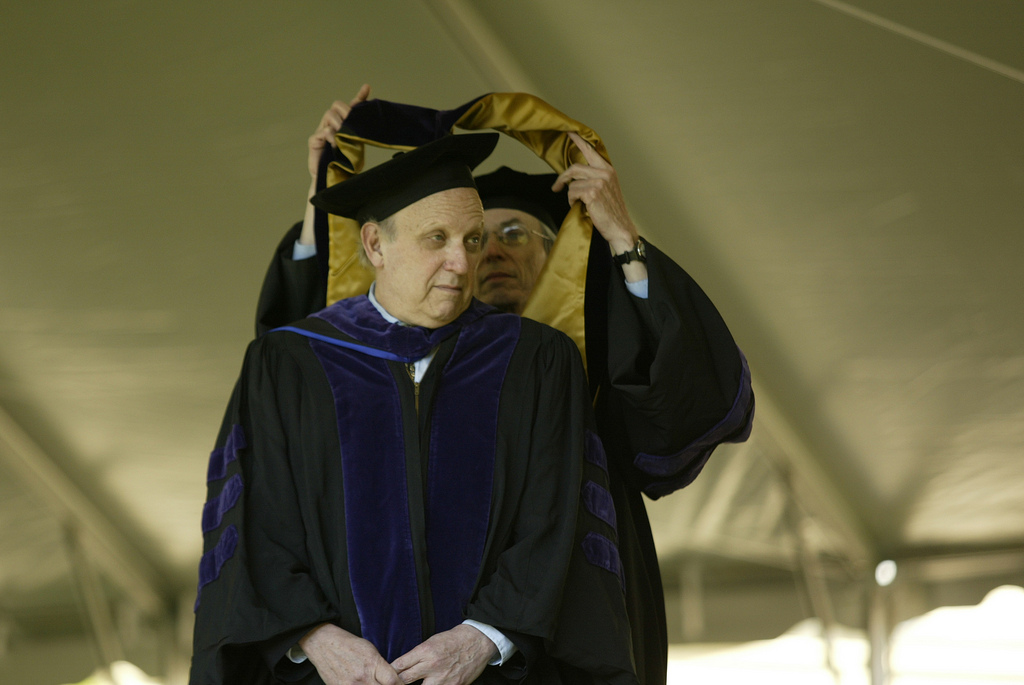 Floyd Abrams is a partner in the New York law firm of Cahill Gordon & Reindel and the William J. Brennan, Jr. Visiting Professor of First Amendment Law at the Columbia Graduate School of Journalism. He graduated from Cornell University in 1956 and Yale Law School in 1960. He has frequently appeared before the Supreme Court in a large number of its most significant First Amendment cases. He was co-counsel to The New York Times in the Pentagon Papers case and counsel to the Brooklyn Museum of Art in its legal battles with New York Mayor Rudolph Giuliani. He has also represented ABC, NBC, CBS, Time Magazine, Business Week, The Nation, Reader's Digest and other clients in trials and appeals.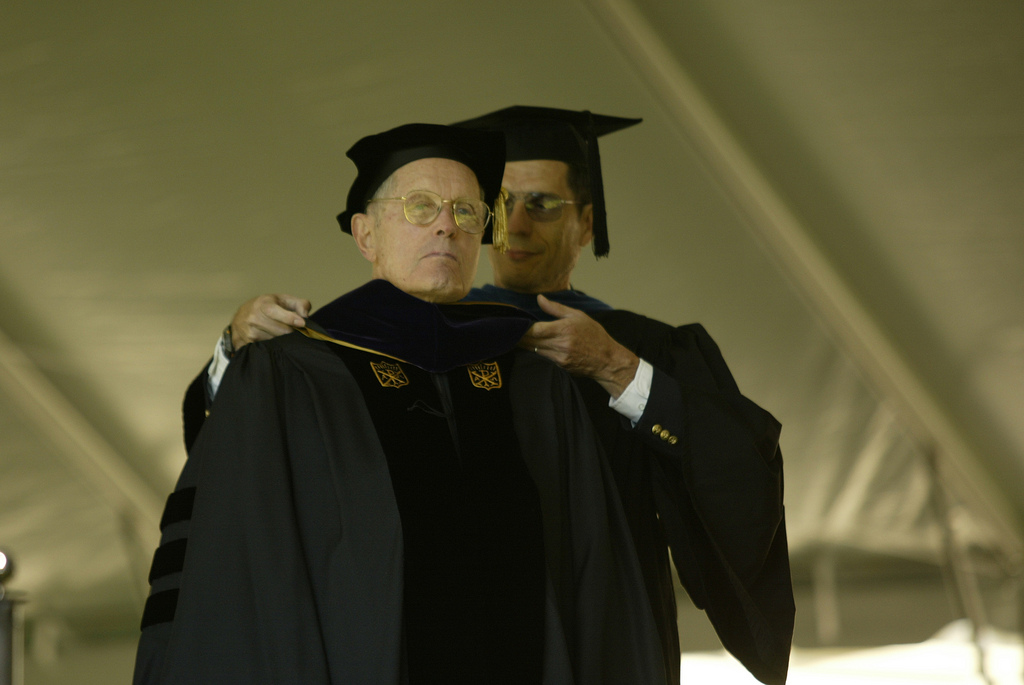 Fred Kirby has had a long and distinguished career in business. After serving in Europe during World War II, he received his graduate degree in business administration from Harvard University. He has led the Alleghany Corporation as chairman for over thirty years, transforming it from a railroad holding company to a billion dollar diversified insurance and minerals firm. He is also president of the F.M. Kirby Foundation, a family foundation which supports a wide range of nonprofit organizations and is ranked among the top 60 private foundations in America. The Kirby Foundation established the F.M. Kirby Chair in Business Excellence in the Calloway School of Business and Accountancy several years ago and more recently contributed $5 million toward the current construction of the F.M. Kirby Wing of Calloway Hall. His daughter, Alice Kirby Horton, is a Wake Forest Trustee, and three of his grandchildren – Laura Horton Virkler ('95), Ward Kirby Horton ('98) and Ashley Walker Horton ('01) – are graduates.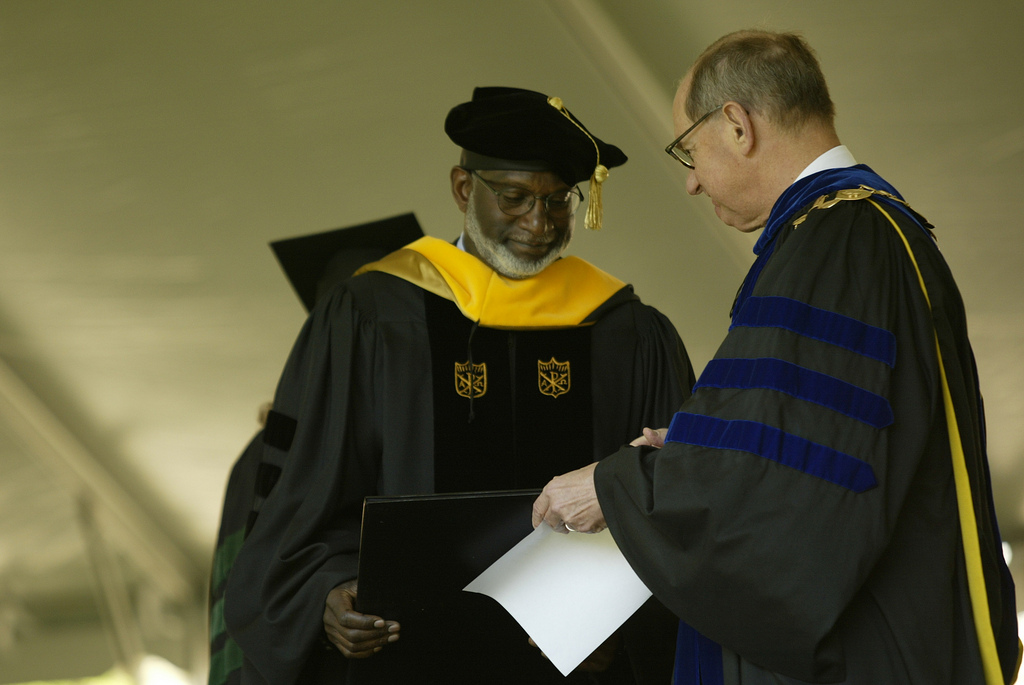 Dr. David Satcher served as the 16th Surgeon General of the United States for four years before stepping down in February. For most of that period, he was also assistant secretary for health in the U.S. Department of Health and Human Services, one of only two persons in history to hold both posts simultaneously. As surgeon general, Dr. Satcher actively promoted healthy lifestyles by leading the department's effort to eliminate racial and ethnic disparities in health and by issuing a series of reports on topics such as disease prevention, suicide prevention, responsible sexual behavior and youth-violence prevention. His numerous honors include the Didi Hirsch "Erasing the Stigma" Mental Health Leadership Award, the National Association of Mental Illness Distinguished Service Award, and the Jimmy and Rosalynn Carter Award for Humanitarian Contributions to the Health of Humankind.