McCain tells WFU graduates to live out true meaning of freedom
By Sarah S. Mansell
Posted May 20, 2002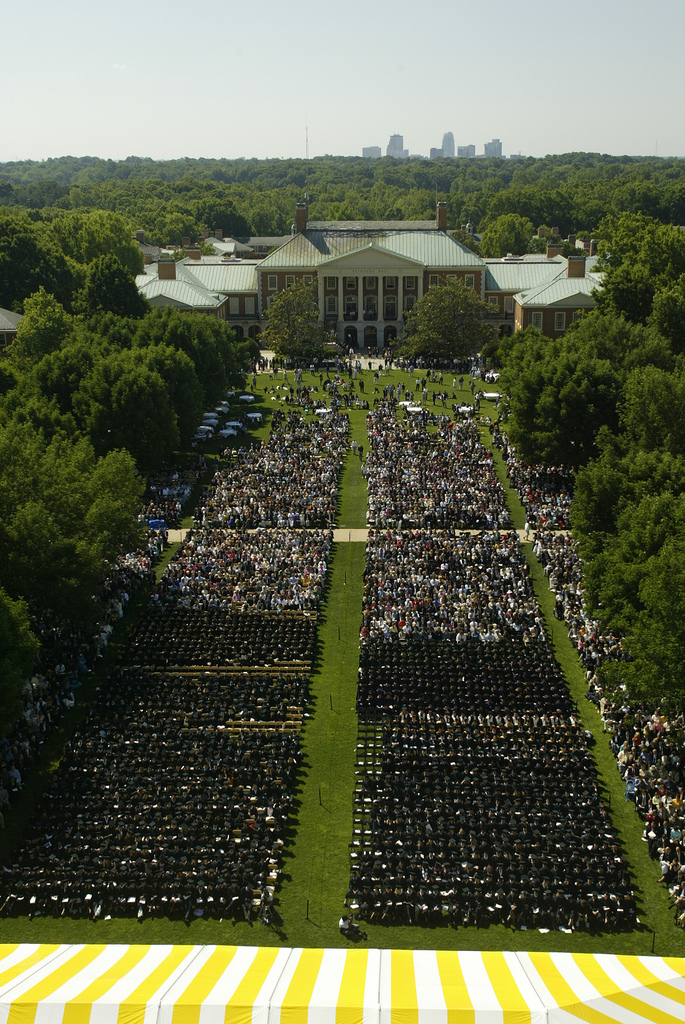 U.S. Senator John McCain told Wake Forest University graduates during a May 20 commencement ceremony to lend their talents to the service of our country's ideals.
"Take your place in the enterprise of renewal, give your counsel, your labor, and your passion in your time to advancing the universal ideals upon which this nation was founded," McCain said in an address to more than 13,000 friends, family and graduates.
McCain received an honorary doctor of laws degree during the unseasonably cool morning ceremony on University Plaza. Approximately 1,363 students received degrees during the ceremony, including 20 students in the Wake Forest Divinity School's first graduating class. McCain shook each graduate's hand as they crossed the stage.
Police Officer Susan Keane of the Port Authority of New York and New Jersey led the commencement processional. Keane was one of the first responding officers to the World Trade Center on Sept. 11. During the ceremony, Wake Forest President Thomas K. Hearn Jr. presented Keane with the American flag that was flying over the Wake Forest campus on Sept. 11.
McCain said the Sept. 11 terrorist attacks were a reminder of how Americans are united with all people whose freedoms are threatened with violence.
"(The terrorists) believed liberty was corrupting, that the right of individuals to pursue happiness made societies weak," McCain said.
"They thought us no match for the violent, cruel struggle they planned for us," he said. "They badly misjudged us."
The son and grandson of Navy admirals and a graduate of the U.S. Naval Academy, McCain said that as a young man, he thought glory was the highest ambition.
"My parents tried to teach me otherwise, as did the Naval Academy," McCain, a former Navy fighter pilot, said. "But I didn't understand the lesson until later in life, when I confronted challenges I never expected to face."
In 1967, McCain's plane was shot down over Vietnam and he was held as a prisoner-of-war for nearly six years, much of it in solitary confinement.
"I discovered that nothing in life is more liberating than to fight for a cause that encompasses you, but is not defined by your existence alone," McCain said. "And that has made all the difference, my friends, all the difference in the world."
McCain encouraged graduates to live out the true meaning of freedom.
"It is courage that counts," McCain said, noting Winston Churchill's famous observation. "In this country, use your courage, as you should use your liberty, to reaffirm human dignity."
"This is your chance to pierce the veneer of outside things, to live out the authentic meaning of freedom," he said.