Remarks to the Graduates
As prepared by Nathan O. Hatch
Wake Forest University Commencement
May 15th, 2006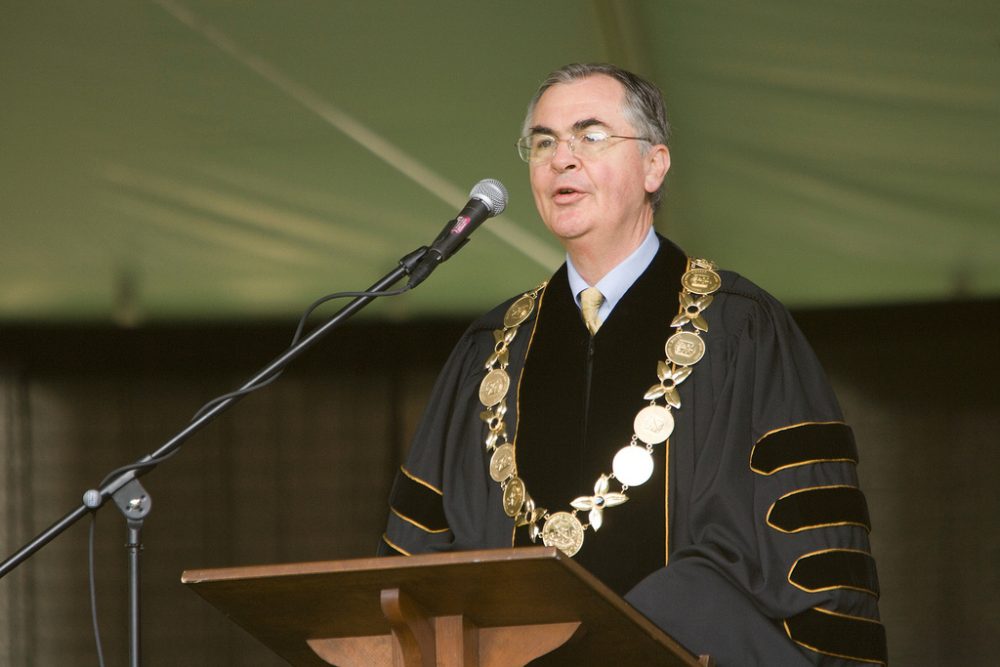 Class of 2006, days like today are glorious, momentous touchstones in your lives. It is a day for celebrating your achievements at Wake Forest, a day to share with family and friends, and those at Wake Forest who are dear to you. Savor the moment, take note of this milestone and, some time today, stop and thank your parents and other family members for their love and for all they did to make this day possible.
Class of 2006, for most of you, this is your first Commencement at Wake Forest, and it is also mine. I am deeply grateful for the warm welcome that you, as upperclassmen and campus leaders, extended to Julie and me – and our family. It was our privilege to know you and to be introduced to this campus by experienced hands such as yourself.
I loved hearing you cheer at our athletic events, reading your articles in the Old Gold and Black, watching you play Frisbee on the Quad or perform in musical and theatrical productions, seeing you talk to friends and professors all over campus. You spoke to me in the Pit and introduced me to Shag on the Mag. You participated in the inauguration and threw an Inaugural Ball that students will talk about for decades. Some of you even introduced me to Bell Brothers Cafeteria.
I was honored to see your triumphant moot court competition in front of Supreme Court Chief Justice John Roberts. I was with you in spirit as you learned about your residency match. I was proud to learn the MBA students were giving back to Wake Forest by committing over $100,000 to their student gift campaign. I heard about the great research coming out of your Master's theses and doctoral dissertations. And I was inspired by Divinity School students and their proclamations in their weekly chapel.
I will long remember this year and this special class of graduates.
Today is a day of celebration. For most of you it is also a day marked by a certain uncertainty – and possibly even a sense of loss. For one thing, your set of friends will never be together in quite the same way. However rigorous your Wake Forest path, college life was pretty straightforward. You fulfilled requirements, chose a major, studied hard, wrote papers, prepared laboratories, took exams.
As university graduates, sprung from the nest, your choices will be greater and more unnerving, your safety nets fewer, and your community of friends less predictable. Until now, the question, what are you doing with your life, has had a simple answer. I am a university student. From this day forward that question becomes sharper, more difficult to answer. Magnificent opportunities await but also a healthy level of anxiety about a future unknown and uncharted.
Today, let me share one simple word of advice as you begin the next chapter of your life. Do not expect to know today what your best opportunities will be in the future.
As much as we like to plan and prepare for what is ahead, to control our destiny, in all likelihood, the best opportunities to come your way will come as a surprise. You have no way today of charting them or predicting them. And today, if you limit yourself to what is already evident on the horizon, you may be more in control, but your future will be more conventional and less inspiring.
The best things that have happened to me professionally, I could have never predicted. A southern Protestant historian was offered a job to teach history at Notre Dame and, somehow, for many years the home of the Fighting Irish became our home. And the privilege of coming to serve at Wake Forest was like a lightning bolt from the blue. I didn't predict it, plan it, or expect it.
Audio