A day of new beginnings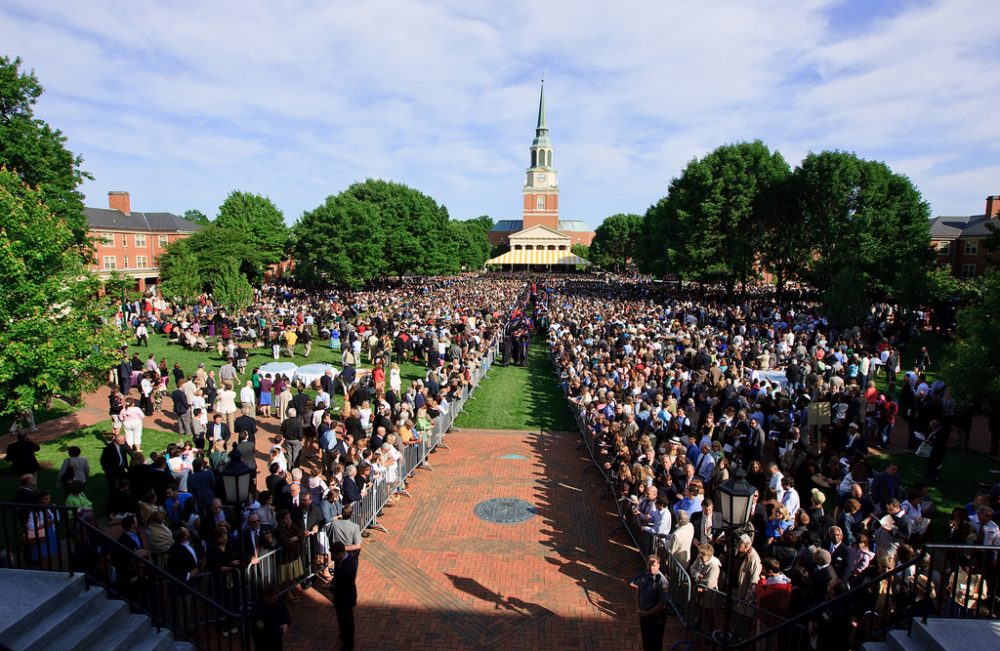 By Kerry M. King ('85)
Office of Creative Services
Published May 18, 2009
Wake Forest's class of 2009 graduated May 18 on a history-making, cool, blustery day on Hearn Plaza, with a send-off by Vice President Joe Biden-the first time a sitting vice president has ever given Wake Forest's Commencement address. For former basketball star Tyrone "Muggsy" Bogues, Commencement meant that he's now a Wake Forest parent, in addition to an alumnus. Bogues' daughter, Brittney, was one of about 1,600 students — including 1,000 undergraduates — who received their degrees.
Brittney Bogues, a sociology major and communication minor, has a job lined up with a public relations firm in Washington, D.C. "It's really amazing. I'm so proud of her," said Muggsy Bogues, who returned to Wake Forest to earn his degree in 1999 after his NBA career ended. "I can't believe this day is happening. I never imagined time would go by so fast, and now she's walking across the same stage that I did."
An audience estimated at nearly 12,000 people filled Hearn Plaza from Wait Chapel to Reynolda Hall for the three-hour ceremony.
Brett Starr, a biology major from Hickory, North Carolina, is among those hoping to remain at Wake Forest a little longer — he's still waiting to hear if he has been accepted into the Wake Forest School of Medicine. "I've had great professors here, who will be lifelong mentors. It's been beyond anything that I could ever have imagined."
Biden, who received an honorary doctorate of laws degree following his address, told the graduates to seize the moment and the opportunities before them, not to "restore anything, but to make anew."
"No graduating class gets to choose the world they graduate into," he said. "Every class has its own unique challenges. Every class enters a history that up to that point has been written for them. And your generation is no different. But what is different about your generation is the chance that each of you has to take history into your own hands and write it larger."
Biden said it was time for the graduates to step up and lead the older generation. "This is your moment," he said. "History is yours to bend…. Imagine a country brought together by powerful ideas, not torn apart by petty ideologies. Imagine a country that leads the world by the power of our example, and not by the example of our power."
Biden singled out several graduates, including Nadine Minani, who escaped the genocide in Rwanda when she was only eight-years-old, and Aaron Curry, the fourth pick in this spring's NFL draft. He also mentioned Fred Hastings, who received his bachelor's degree three days before his 77th birthday. Hastings was an ROTC student in his final semester in 1956 when he was commissioned by the U.S. Army and left college one course short of earning his degree. Last year, he completed the remaining accounting course he needed at a college near his home in Florida and transferred the credit, so he could finally earn his degree. His son, Victor, graduated in 1982.
Another student who returned to finish her degree was Kimberly Cruz, who left Wake Forest 17 years ago because of financial and medical reasons. A marathon runner, she hurt her ankle in a recent race and had surgery, leaving her in a wheelchair for the ceremony, her ankle in a cast with "WFU" written on the side. She said she wanted to show her eight-year-old daughter that you finish what you start.
"When I first came here, it was to learn about things, to become an educated person," said Cruz, who received her degree in anthropology. "It's the same now. I already have a job (at Reynolds Tobacco in Tobaccoville, NC). I wanted to get the degree as an example for my daughter."
Commencemen Photos