Be prepared
David Shores found his niche — and a home for 37 years — teaching law students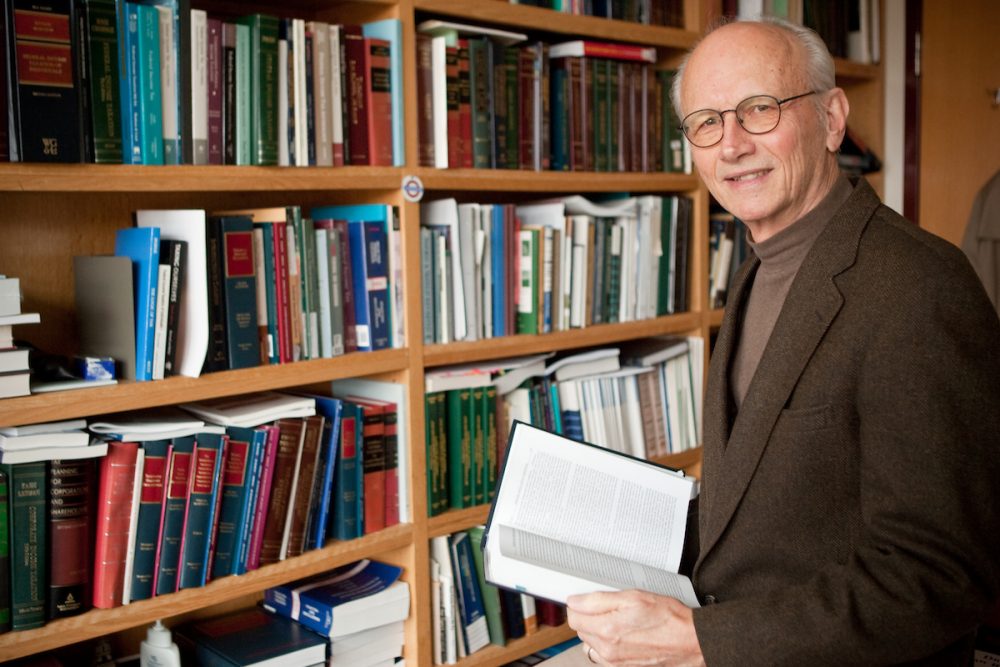 By John Trump
School of Law
Published May 15, 2009
Fayetteville, North Carolina, home to the Army's Fort Bragg, and Winston-Salem are separated by a short two-hour drive. For David Shores, that trip — which took him to Washington, D.C., and the University of Iowa — lasted several years. But when Shores, who was stationed at Fort Bragg in the early 1960s, returned to North Carolina in 1972 to teach at Wake Forest's School of Law, he found a home.
"It's been a wonderful place to work," said Shores, a specialist in taxation and anti-trust law. "I've pretty much been able to teach what I wanted to teach; I found a niche. It's been a really good career."
Shores doesn't have any firm plans for his future, other than writing and traveling with his wife, Kathy.
"David has been an incredible asset to Wake Forest," said law school Dean Blake Morant.
When Shores came to Wake Forest, the University and law school were more oriented to attracting students from within North Carolina and the region. Now, the University and law school share a spot on the national – even international – stage, he said.
"We've always had a strong teaching faculty, but we've become equally strong as a publishing faculty. There is a great deal more emphasis now on scholarship. We're strong in both areas – which are the essential activities of university teaching. There has been a very positive change over the years that I've been there."
Through 37 years of teaching law students, he had a simple approach. "Probably the most important message I tried to convey to my students was the value of professional competence, the need to take every task seriously, and to be prepared. The advice often imparted to trial lawyers is that the three most important things to winning in court are preparation, preparation and preparation. I tried to be as prepared for going into the classroom as I would have been for going into court. Hopefully, the message got across to students not so much from what I said in the classroom, but from what I did in the classroom."
Shores grew up on a farm in Northeast Iowa and earned his bachelor's degree and J.D. from the University of Iowa in Iowa City. He worked on the legal staff of the Federal Trade Commission in Washington, D.C., and, after earning a LL.M. in taxation from Georgetown University, joined the law firm of Porter, Stanley, Treffinger & Platt (now Porter, Wright, Morris & Arthur) in Columbus, Ohio.
He has been a visiting professor at the University of Missouri School of Law and a distinguished visiting professor at William Mitchell School of Law in St. Paul, Minnesota.
Professor of Law Joel Newman began teaching at Wake Forest several years after Shores. "It was a comfort and a privilege to come to Wake Forest to begin my teaching career, knowing that David Shores was already here," Newman said. "David has been a wonderful mentor and colleague. His calm good sense and quiet good humor were always appreciated by everyone."
Shores has always stressed the importance of living up to the standards and expectations inherent in the law profession.
"My professional life, the main focus has been on being a well-respected teacher, and I feel that I've basically achieved that over the years," Shores said. "It's probably the one thing I'm most proud of working for the law school."