Howell Smith, professor of history
By David Fyten
Office of Creative Services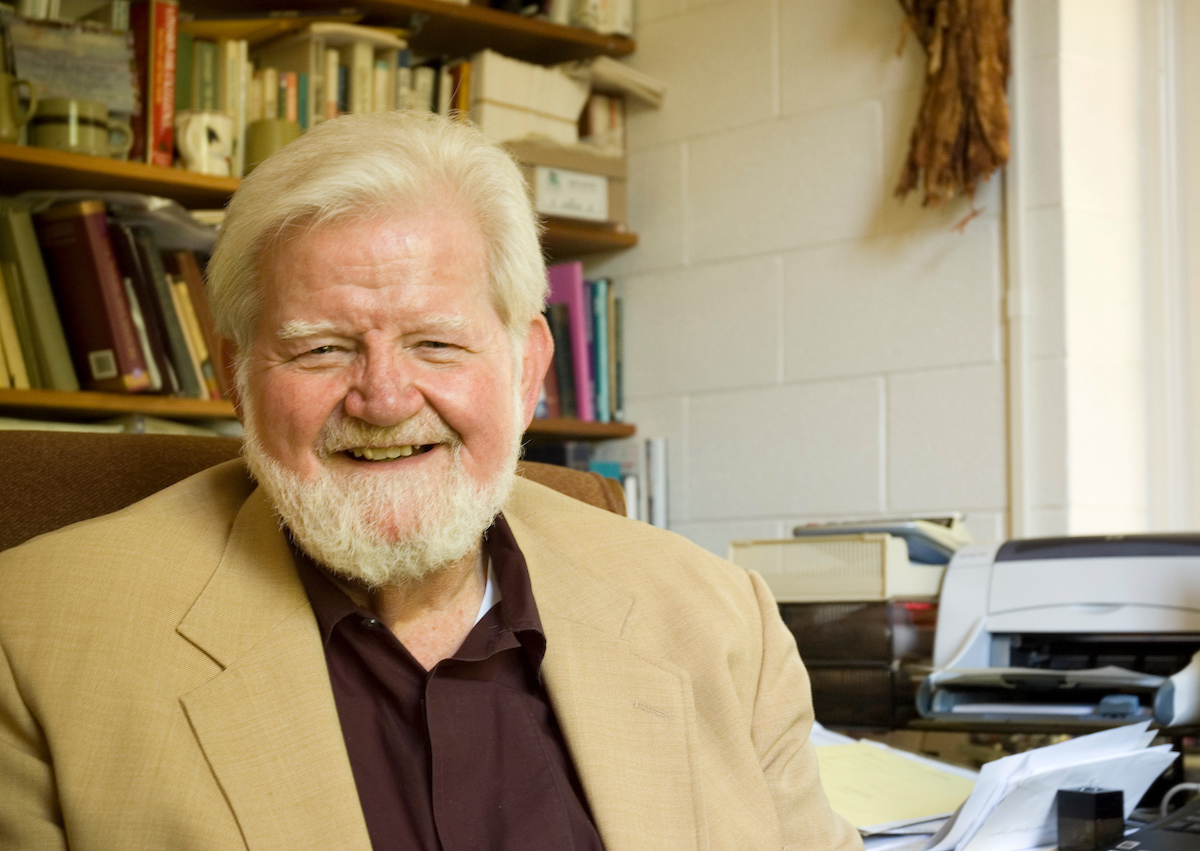 Howell Smith grew up in the 1940s and early 1950s in Farmersville, Texas, an onion-growing town of 2,000 people, 30 miles north of Dallas. Much of rural Texas, poor and lacking basic amenities, was captivated back then by the liberal agrarian populism of politicians like Lyndon Baines Johnson. As a boy, young Howell pumped water, bathed in a No. 3 tub, trapped rabbits, did chores around the family farm, and attended a two-room schoolhouse. His father and mother — schoolteachers as well as farmers — taught him the ways of a small farm town while friends took him to Dallas Symphony Orchestra concerts.
His small high school needed every one of its male students to play football, so Howell signed up. "You didn't have to be good — just present," he quips. In summers he worked in Farmersville's onion sheds side by side with migrant workers and paid no attention to the fact that they were Mexicans. "I was brought up by parents," he says, "who taught me to respect everybody."
Those who would assess Howell Smith's 42-year tenure on the history faculty and the legacy he leaves behind him on the occasion of his retirement from full-time teaching might find clues in his upbringing. (He will continue to teach two courses in the fall for the next few years.) A proponent of racial harmony, he initiated — and, for 20 years, taught — the University's first courses in African-American history. As a mentor to student organizers, he championed symposia on the war in Vietnam, social change and other contentious topics in the late 1960s and early 1970s.
During his time as chair from 1987 to 1995, the department committed to diversification and a global perspective in its curriculum and faculty, hiring women and an African-American, and in Latin-American, African-American, Middle Eastern and Asian history. And being raised by schoolteachers and attending classical music concerts helped him become a learner who valued erudition, culture and the life of the mind.
Factor in his superior teaching skills, his years of service as pre-law advisor and his accessible, avuncular demeanor and it is not surprising that more than a few alumni list him among their favorite faculty members.
After obtaining his bachelor's and master's degrees from Baylor and Tulane universities, respectively, Smith enrolled as a doctoral student in 20th-century American history at the University of Wisconsin-Madison in 1961. A Rockefeller Foundation-funded program that subsidized the graduate studies of young scholars who agreed to teach in the South for several years paid for his expenses. Wake Forest qualified geographically, so in 1965, he accepted his first and only academic job at the University.
"When I joined the history department, it still had a large preponderance of faculty members from the South and who had come from the Old Campus," said the burly and bearded Smith in a recent interview in his corner Tribble Hall office that must be among Wake Forest's — how to put this — most space- and tidiness-challenged.
"The curriculum was heavily weighted to Southern history. Almost all of the faculty belonged to Wake Forest Baptist Church and college matters would be hashed out over church suppers. Departments were careful not to schedule events at times that would compete with other events elsewhere on campus. Much of the faculty had lived in Faculty Apartments. It was a true community; a very cozy time."
Although progressive internal and external factors soon dissipated that sense of coziness, the country's changing cultural and political tenor resonated with Smith's liberal instincts. In 1968, he developed and started teaching courses in African-American history and launched, with the late English professor Tom Gossett, January-term African-American study trips to Washington, D.C., and New York's Harlem district. He also backed the efforts of students who sought to air the day's most urgent issues in forums and symposia.
Across the decades, Smith designed and taught a host of provocative courses, among them, one he titled "The Last Decade of Optimism." "It covered the mid-1950s to the mid-1960s, when Americans still thought they could fix things," says Smith, who helped establish a Big Brothers/Big Sisters chapter in Forsyth County and served as state director of National History Day. "You won't find too many who think that today. Forty-five or 50 years ago, people thought the [economic] pie would get bigger, and could be shared equitably and justly with others without it costing you. That notion had pretty much died by the late 1960s."
A good many history faculty members retired during Smith's tenure as chair from 1987 to 1995, and in its hiring the department held to its commitment to diversify its gender and racial composition and expand its global coverage. His appointments included Anthony S. Parent Jr., the department's first tenured African-American professor who assumed the teaching of African-American history from Smith; Sarah Watts, an economic historian whose research has delved into a host of political and cultural topics; Simone Caron, a U.S. social historian who developed courses in women's history and medical history and who has become the department's first female chair; and Bill Meyers, a noted Latin-American historian.
Smith, who met his wife, Jeanette, at Baylor and has two grown children with her, has served under four presidents at the University and witnessed a lot of change over the decades. "In the past, our faculty were primarily teachers," he notes. "Now, our teacher-scholar ideal compels us to ask our faculty members to do more than they would be asked to do elsewhere. Many of them could be outstanding at institutions whose primary mission is research. Our challenge is to find people who want to be at a place where minds grow and to make the balance we ask for acceptable to them so they can feel comfortable here for the long term."
He sees a different challenge confronting students. "A lot of them come in all prepped and polished. Many of them already have seats reserved for them on the other side of the door of opportunity. What Wake Forest can do is help them know and understand how to leverage that power for their own benefit and the common good. We want them to be proud of what they have done with the power they hold 20 years out."