A dean's legacy
Bob Walsh led the law school to greater national stature
By Ellen Dockham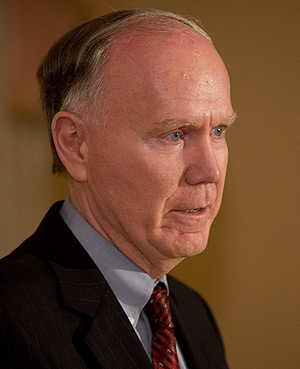 Robert K. Walsh is stepping down as dean of the School of Law on July 31 after a remarkable tenure in which he not only transformed the law school into one of the leading schools in the country, but also rose to become one of the top leaders in American legal education. After a one-year sabbatical, Walsh plans to return to the classroom.
"Of my three lives in the law — as a litigator, professor and dean — on a day-to-day basis, the job of the litigator and the dean are most alike. You are constantly making decisions, moving large masses of paper, making judgments," Walsh said. "There are more highs than lows — if you win a case, there's nothing like it; as a dean if you get that great faculty member, it's the same feeling. I'm looking forward to getting back to the classroom. As a professor, your time is more your own."
Walsh had a varied background — as a practicing attorney, a law faculty member at Villanova University, dean of the University of Arkansas at Little Rock School of Law, and finally a litigation partner with a law firm in Little Rock, Arkansas — that made him well-qualified for the Wake Forest law dean's position. The fact that he's served for 18 years, more than triple the national average length of a law deanship across the country, shows that Walsh and Wake Forest were a good fit, says Jim White, a former chairman of the ABA's legal education section.
"Bob's been a remarkable dean," said White, a faculty member at Indiana University. "It's fair to say he made Wake Forest a truly national law school. Before he came, it was certainly a good school, but it was regional. As I now talk to people around the country, it's clear that Wake Forest is one of the leading law schools in America. There is no doubt that he's considered one of the real leaders in American legal education."
Professor Emerita Rhoda Billings, who served on the dean's search committee, said Walsh was exactly what the committee was searching for in 1989. "People were excited about his experiences and contacts, including his work with the ABA, as a dean and as a practitioner," she said. "Wake Forest had always prided itself in training good lawyers, not theoreticians. We wanted to move up in the ranks, and we thought Bob was in a good position to give Wake Forest greater visibility. That's exactly what happened. It's his vision of the law school as a training ground for ethical, effective practitioners that marks his years here."
During Walsh's tenure, the law school moved into the Worrell Professional Center for Law and Management; opened the Legal Clinic for the Elderly; began the Master of Laws degree program for international lawyers; and started summer study programs in Vienna and Venice, where Wake Forest owns residential study centers. He also led the development and completion of two long-range strategic plans for the school and saw the school through two university-wide capital campaigns. Fundraising has increased student financial aid and supported the creation of four faculty chairs and three endowed professorships.
"He has tirelessly worked on behalf of the law school and raised the profile of the school through any number of activities, said Bill Davis (JD '66), a partner with Bell, Davis & Pitt in Winston-Salem. "He's expanded the school and been able to attract excellent faculty members. He's spent a lot of time with alumni. He's just been an excellent dean."
Alumni and Walsh's law school colleagues alike also give high marks to his wife, Kathie. "Kathie has been a wonderful companion in his efforts here," Billings said. "Everyone thinks she is a tremendous person and an equal asset to the law school."
Under Walsh's leadership, the law school won a number of awards and honors, including membership in the prestigious Order of the Coif, the Emil Gumpert Award for Excellence in Trial Advocacy from the American College of Trial Lawyers, and the E. Smythe Gambrell Professionalism Award from the American Bar Association for its three-year comprehensive professional education program. In 2004, National Jurist magazine declared Wake Forest the "best private law school for the money" in the United States, based upon such factors as bar passage rates, placement rates and student-faculty ratio.
Walsh has held numerous leadership roles in state and national bar organizations, which helped raise Wake Forest's profile. "It's one thing to have a great law school, and it's another thing to have people know it," he said. In 1993, he co-founded the ABA Seminar for New Law Deans, which for its first 10 years was held at Graylyn Conference Center. He also was a founding member of the North Carolina Chief Justice's Professionalism Commission. He was recently elected as national vice president of the American Inns of Court Foundation and reelected to the boards of two other national legal organizations: the National Association of Law Placement Foundation and ABA's Central European and Eurasian Law Initiative.
For 14 of his 18 years as dean, Walsh taught a course on federal courts. He is most proud of having hired one-half of the current tenure-track faculty. "The collegiality of the law faculty here is outstanding. They are national scholars but are still devoted to their teaching," he said. "They are committed to educating students outside of the classroom as well, always giving of their time to meet with students in their offices, to judge moot court competitions, to attend student events."
Walsh may be leaving the dean's office, but his heart will still belong to Wake Forest. "Wake Forest is built around the idea of education that cares about each individual student," he said. "There is a whole sense of community here that is very different from other national universities."