Heading to Oxford
Michelle Sikes runs to the next challenge
By Cherin Poovey (P '08)
Office of Creative Services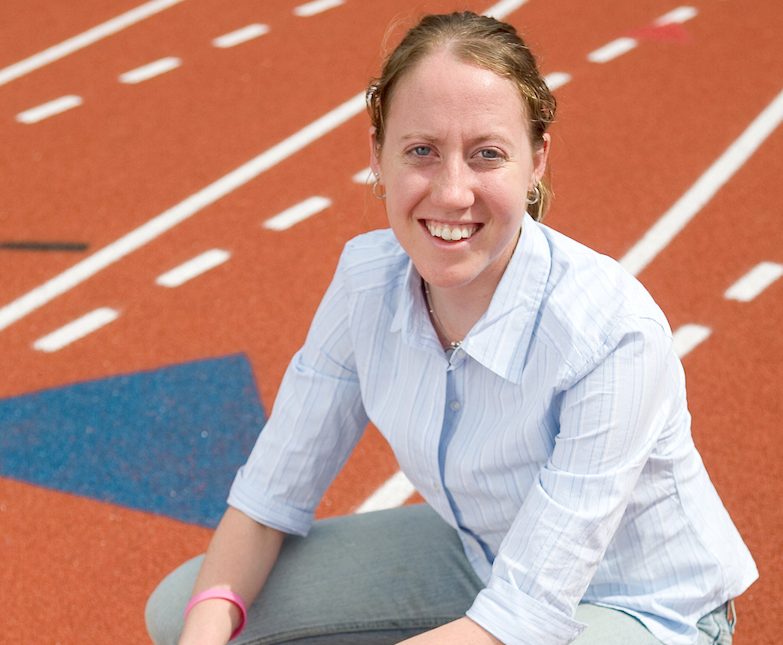 Michelle Sikes loves running and winning. On a chilly weekend last November, she did both.
In Pittsburgh to interview for the prestigious Rhodes Scholarship, Sikes was not about to let the day go by without a good run. She took to the streets, exploring the city with a fellow Rhodes candidate. Later that day she learned she had become Wake Forest's newest Rhodes Scholar — its 11th since 1986.
Sikes, a mathematical economics major and an All-American in cross country and track, will travel to Oxford University in the fall for two years of study. She hopes to pursue a master's degree in economics as well as a master's of science in global health sciences, that will prepare her for a career related to her area of interest — organ donation.
When Sikes was a high school senior in Lakewood, Ohio, she was looking for a school that successfully combined top-level programs in academics and athletics. She considered Duke and Stanford, as well as Wake Forest. She was impressed with Wake Forest's small-school atmosphere and Division I program. She connected well with her future coach, Annie Bennett, and enjoyed the friendliness of the women on the cross-country team. All those factors, combined with what she considered great weather, led her to choose Wake Forest.
"Wake Forest has exceeded all my expectations," Sikes said. "The network of support you find at Wake Forest is one of those intangibles that you don't appreciate until you're applying for graduate school or a job in the real world." To fulfill a requirement for her health policy administration minor, she worked last summer at the American Enterprise Institute for Public Policy as a health policy intern for a researcher studying the organ donation system. Fluent in Spanish, she volunteered during the academic year as an interpreter at a clinic for low-income Hispanic residents in Winston-Salem.
She has won numerous honors throughout her athletic career in cross country and track. Most recently, in early May, she was named the ACC Meet Most Valuable Track Performer for the 2007 season, as voted on by the league's head coaches. She capped off an outstanding ACC Championship in April by capturing individual event titles in the 5,000-meter and 10,000-meter competitions; she's currently fifth nationally in the 1,500 meters, fifth in the 5,000 meters, and fourth in the 10,000 meters.
"I feel so fortunate to have had the opportunity to enjoy stimulating academics, membership in an intensely competitive sports conference, and an incomparably supportive and friendly environment during my time here," she said.