WFU honorary degree recipients include groundbreaking women in medicine, religion
Posted May 19, 2008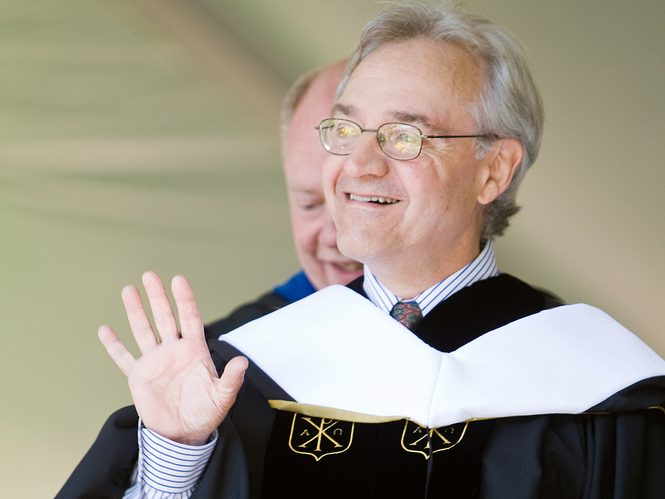 Wake Forest University awarded six honorary degrees during its commencement ceremony May 19. The morning ceremony featured award-winning Washington Post columnist E.J. Dionne Jr. as speaker.
Following his address to approximately 1,500 Wake Forest graduates on the university's Hearn Plaza (the Quad), Dionne was presented an honorary doctor of humane letters degree.
Dionne began writing his column for the Washington Post in 1993, and it is now syndicated to more than 100 other newspapers. He appears regularly as a political commentator on national radio and television shows, and his articles have been published in major magazines and journals.
He is a senior fellow at the Brookings Institution, where he edits and co-edits a variety of publications, and a professor at Georgetown University's Public Policy Institute.
He is the author of four books including "Why Americans Hate Politics" and "Souled Out: Reclaiming Faith and Politics After the Religious Right" and is the editor of numerous others.
In addition to Dionne, five other distinguished individuals received honorary degrees during Wake Forest's commencement ceremony.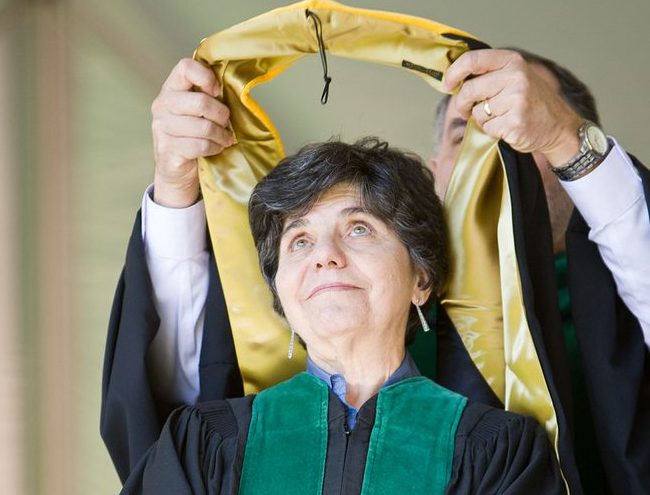 Dr. Catherine DeAngelis, the first female editor-in-chief of the Journal of the American Medical Association (JAMA), received an honorary doctor of science degree.
DeAngelis is known for spearheading efforts to publish articles in JAMA on women's health issues that have led to significant changes in the course of healthcare. Her efforts have included publishing the landmark study questioning the benefits of hormone replacement therapy in 2002.
She is the editor-in-chief of Scientific Publications and Multimedia Applications; professor of pediatrics at Johns Hopkins University School of Medicine; and the former editor of the Archive of Pediatrics and Adolescent Medicine.
A prolific writer, she has authored or edited 11 books on pediatrics and medical education and more than 200 articles, chapters, editorials and abstracts.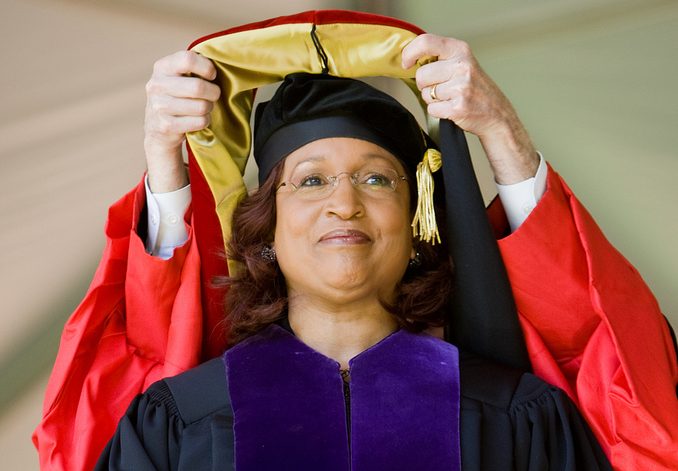 The Right Rev. Vashti McKenzie, an ordained minister and bishop of the African Methodist Episcopal (A.M.E.) Church, received an honorary doctor of divinity degree.
In 2000, McKenzie became the first female bishop in the 213-year history of the A.M.E. Church. In 2004, she again made history when she became the first woman to lead the denomination as the president of the Council of Bishops, making her the highest-ranking woman in the predominately black Methodist denomination.
She is a frequent preacher and lecturer at schools, conferences and churches across the nation and is widely recognized for her commitment to civil rights, justice, interracial dialogue and women's issues in the church.
She serves as the national chaplain for Delta Sigma Theta Sorority Inc., an international public service organization, and is a life member of the National Association for the Advancement of Colored People. She is the author of four books, including "Swapping Housewives: Rachel and Jacob and Leah" and "Journey to the Well."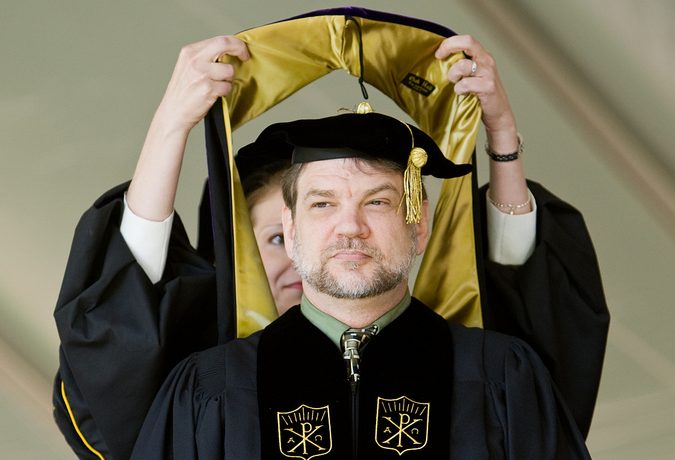 The university awarded an honorary doctor of laws degree to Richard Noll, chief executive officer of Hanesbrands Inc.
In April 2006, Noll became CEO of Hanesbrands, where he oversees 50,000 employees in more than 25 countries.
He joined Sara Lee in 1992 as chief executive officer of the U.S. sock business, adding international responsibilities in 1998. He was named president and chief operating officer of Sara Lee Branded Apparel in 2005. Hanesbrands was spun off from Sara Lee Corporation in 2006.
Under Noll's leadership, Hanesbrands recently announced a pledge of $2 million to the Winston-Salem Arts Council for a performing arts theatre adjacent to the historic Sawtooth Building in downtown Winston-Salem.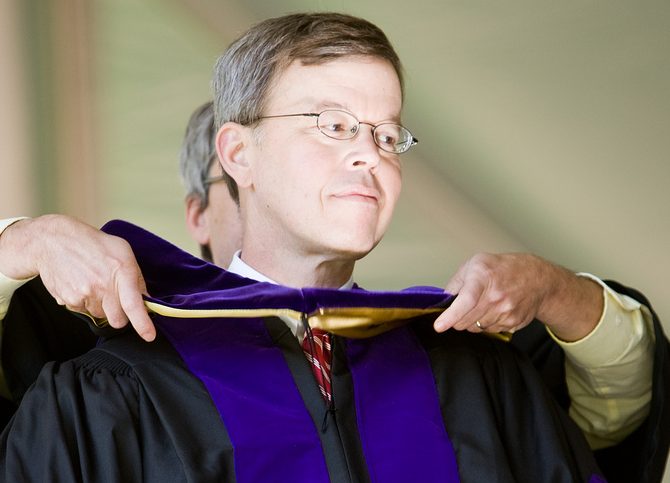 James Talent, former Republican senator of Missouri, was also awarded an honorary doctor of laws degree.
Talent recently served as senior advisor for Mitt Romney's 2008 presidential campaign.
He served in the Senate from 2002 to 2008, where he introduced legislation such as the Small Business Health Fairness Act and the Sickle Cell Treatment Act; co-sponsored the Flag Desecration Amendment; supported the Renewable Fuels Standard and tort reform legislation; and was chief sponsor of anti-predatory lending legislation.
Before his election to the Senate, he served for eight years in the U.S. House of Representatives. As a freshman in Congress, Talent authored the Welfare Reform Act of 1994 and served as chairman of the Small Business Committee from 1997 to 2001.
He has received numerous awards and recognitions and currently serves as a distinguished fellow at the Heritage Foundation, where he specializes in military readiness issues.
Robert Wuthnow, the Gerhard R. Andlinger Professor of Sociology, chair of the sociology department and director of the Center for the Study of Religion at Princeton University, received an honorary doctor of humane letters degree.
Wuthnow is one of the leading sociologists of religion in the United States. He has written more than 25 books and dozens of articles about religious institutions and religious participation in civic life. Several of his books have been nominated for Pulitzer Prizes and National Book Awards, including "America and the Challenges of Religious Diversity," "Saving America? Faith-Based Services and the Future of Civil Society," and "After the Baby Boomers: How Twenty- and Thirty-Somethings Are Shaping the Future of American Religion."
He is the editor of The Encyclopedia of Politics and Religion, a recipient of a Guggenheim Fellowship and a winner of the Martin E. Marty Award for Public Understanding of Religion.
He has been principle investigator for numerous research projects funded by leading foundations, including the Russell Sage, Ford, Mellon, Kellogg and Lilly Endowment foundations and the Pew Charitable Trust.