Seventeen years (but who's counting?)
Once again, Wake Forest beats the odds and basks in glorious weather at commencement — as well as the wise words of a Washington sage.
By David Fyten
Office of Creative Services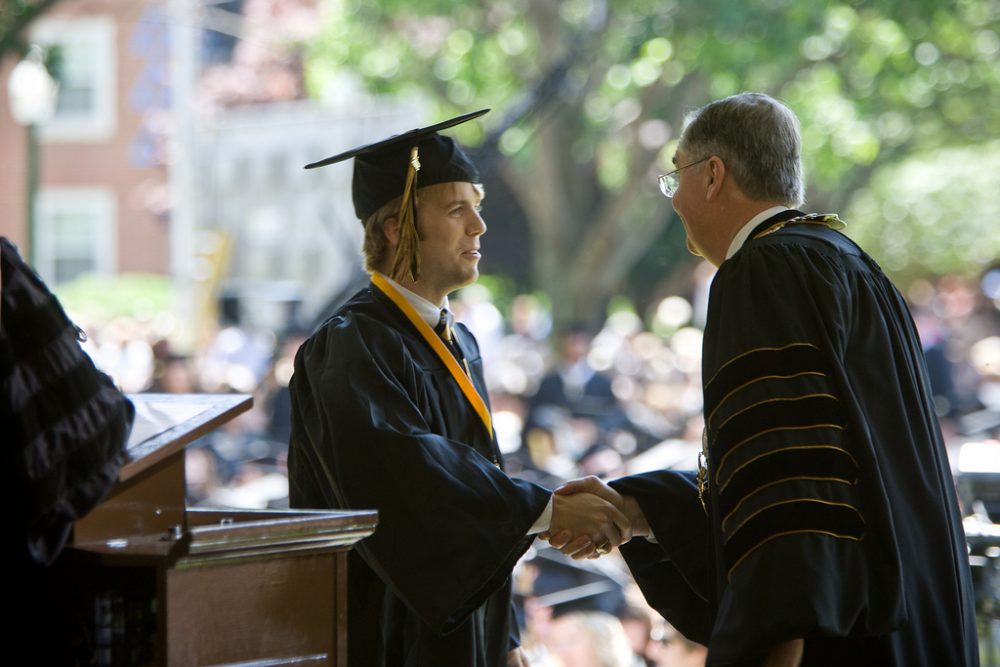 Rosencrantz and Guildenstern Are Dead, Tom Stoppard's absurdist play about the backstage musings of a tandem of minor characters in Hamlet as they await their entrances, opens with them flipping a coin. Rosencrantz bets heads every time and wins ninety-two flips in a row as Guildenstern wonders how that can possibly be.
Evidently commencement at Wake Forest is a coin and the officials who plan the event are Rosencrantz, for, once again, the day came up heads May 19. For the 17th consecutive year, rain, rain went away to come again another day and the exercises were conducted at their accustomed location — outdoors on Hearn Plaza in clear, crisp conditions that could not have been more ideal.
The approximately 1,500 graduates and their family members who were on hand were treated to a speech by Washington Post political columnist E.J. Dionne Jr., that was at once funny and inspirational.
Dionne, a senior fellow at The Brookings Institution and University Professor at Georgetown who has been named as one of Washington's 25 most influential journalists, turned to baseball as a metaphor of life's endeavors. "It is essential to accept that life will always hand you defeats as well as victories, and what matters is what you do with both of them," he said. "Being prepared to lose is the only way to win. Being willing to strike out is the only way to hit .300. And, when it comes to politics and public life, remember that, thank God, in a democracy, just as there are no final victories, there are no final defeats."
Dionne cited other important lessons of life — to cultivate a sense of humor; to never treat with contempt or disrespect those who have less formal education; to "really know something" because, without specific skills or facts, "you won't ever be able to change or fix anything."
"Your generation is poised to become one of the great reforming generations in our country's history," he said. "Your generation has been exceptional in its devotion to service. You combine the idealism of the sixties with the practical concerns of the generations of the eighties and nineties. You want to do good, but you want the good you do to last. You are willing to take risks, but you are not foolhardy. You have doubts about politics but are willing to give politics a chance.
"You are special because you are daring to hope again," he said. "Hope accepts the human tendency to sin, but also our capacity for transcendence. Hope is realistic about what is, but imagines what might be. Hope sees through empty cynicism and sees around the corners of our current difficulties. Hope is the virtue on which faith and love depend.
"I'm calling upon you to be the generation that transforms charity into justice, cynicism into hope, division into dialogue, selfishness into generosity, [and] impatience with politicians into belief in the possibilities of politics and public life," Dionne concluded. "Fifty years from now, I want the person standing in my place to be able to say that you were part of the generation that transformed a time of peril and confusion into an era of reform and renewal. And I actually believe you'll do it."
Commencement Photos