Students elected to Phi Beta Kappa
Provost Tiefenthaler named honorary member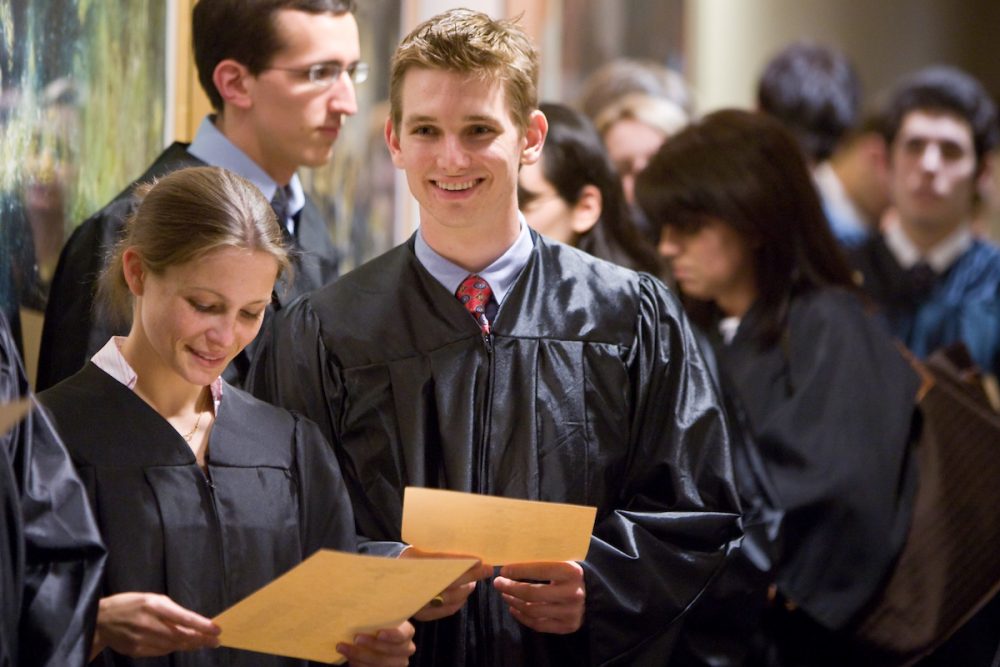 By Kerry M. King ('85)
Office of Creative Services
Posted on May 17, 2008
Seventeen juniors and 57 seniors were inducted into Wake Forest's chapter of Phi Beta Kappa on April 16. They represent just 2 percent of the junior class and 8 percent of the senior class. Provost Jill Tiefenthaler was inducted as an honorary member.
The G.W. Greene Scholarship, given to the junior or juniors with the highest academic average, was presented to Anna Christine Fedders, a chemistry and biochemistry major from Beckley, W. Va.; Samantha Ashton Heuertz, a biology major from Charlotte; and Glenn (Yan) Zhao, a biology major from Nashville, Tenn. The award was established in 1997 by Dr. and Mrs. W. Donald Moore in honor of Dr. Moore's grandfather, the Rev. George W. Greene. Dr. Moore was in the first group of Phi Beta Kappa members to be inducted at Wake Forest in 1941.
Tiefenthaler, a graduate of Saint Mary's College in South Bend, Ind., was named an honorary member since Saint Mary's does not have a chapter of Phi Beta Kappa. She went on to earn her master's and doctoral degrees in economics from Duke University. She had taught at Colgate University since 1991 before being named provost at Wake Forest last summer.
Phi Beta Kappa is the nation's oldest and most prestigious academic honor society. The first chapter was founded at the College of William and Mary in 1776; Wake Forest's chapter was chartered in 1941.
Students are elected to membership based on their academic record as well as good character.
New members, their hometown, and major(s):
Juniors
Derek Thomas Bernstein, Pittsburgh, Pa.; Chemistry-Biochemistry
Nora Ellen Brickhouse, Winston-Salem; Spanish, Anthropology
Carolyn Michelle Conklin, Ponte Vedra Beach, Fla.; Anthropology
Laura Christine Crysel, Lewisville, NC; Psychology
Anna Christine Fedders, Beckley, W.Va.; Chemistry-Biochemistry
Erik Robert Forseth, Chesapeake Beach, Md.; Physics, Math
Cameron Elizabeth Frothingham, Durham, NC; Anthropology
Alisa Marie Garatoni, San Antonio, Texas; Elementary Education
Samantha Ashton Heuertz, Charlotte; Biology
Joseph Charles LaBaw, Fletcher, NC; Philosophy, Economics
James Patrick Nelli, Gastonia, NC; Physics
Benjamin Jacob McMichael, Macon, Ga.; Mathematical Economics
Bennett James Stancil, Belmont, NC; Economics
Christopher Conn Sukenik, Pittsburgh, Pa.; Finance, French
Mary Elizabeth Ward, Columbia, SC; Biology
Megan Renee Wright, Kings Mountain, NC; Biology
Yan Zhao, Nashville, Tenn.; Biology
Seniors
Andrew James Alexander, Lexington, Ky.; Biology
Rebecca Ann Beckett, Winston-Salem; Political Science
Brian David Blaker, Florence, SC; Chemistry
Nancy Elizabeth Bonifant, Silver Spring, Md.; Chemistry
Rachael Prewitt Bryan, Orlando, Fla.; Chemistry
Christina Anna Chauvenet, Charleston, W.Va.; Political Science
Robert Matthias Clark, Carlisle Pa.; Finance
Amanda Sarah Collett, Lewis Center, Ohio; Psychology
Melanie Diane Cost, West Chester, Pa.; Economics
Benjamin David Cotey, Kingsport, Tenn.; Religion
Sara Catherine Crowe, Litchfield Conn.; Political Science
William Thomas Daniel, Charlotte; Political Science, French
Lydia Lee Dorsey, Atlanta, Ga.; Anthropology
Jane Esther Durand, Holtsville, NY; Business
Christine Julia Eckhardt, Orange Park, Fla.; Communication
Kathryn Claire Edwards, Hawley, Pa.; Psychology
Eric Robert Ellis, Lookout Mountain, Tenn.; Latin, Greek
Jamie Kathleen Espensen-Sturges, McAllen, Texas; History, Anthropology
Jessica Ann Flisek, Bethel Park, Pa.; Economics
Louis Charles Frazier, Winston-Salem; Biology
Matthew Michael Goetz, Mechanicsburg, Pa.; Political Science
Emily Ann Goldman, Cincinnati, Ohio; Communication
Alimer Roberto Gonzalez, Miami, Fla.; Health and Exercise Science
Anthony Wayne Hall, King, NC; Education: Social Studies
Alexandra Lynn Harrison, Bethesda, Mass.; Spanish
Amy Elizabeth Holbrook, Johnson City, Tenn.; Communication
Margaret Ann Jarrell, Columbus, Ga.; Religion, Art History
Michelle Sherie Johnson, Middleburg, Fla.; Political Science, Economics
Bryan Davis Keith, Winchester, Va.; Political Science, Communication
Caroline Huntly Kirwin, E. Fallowfield, Pa.; Business
Katherine Cottingham Kitchin, Cincinnati, Ohio; Communication
Kevin Michael Kuppler, Canfield Ohio; Chemistry
Eric Ferriday Lange, Indianapolis, Ind.; Religion
Darren Paul Lindamood, Houston, Texas; English
Daniel Vincent Lovrich, Johnstown, Pa.; Finance
Anne Charlotte Lutin, Lincolnton, NC; Biology
Mary Theresa Mader, Minneapolis, Minn.; Finance
Emily Wonnell Mathews , Williamsburg, Va.; Sociology
Rachael Kim Mongold, Chantilly, Va.; Art History
Amy Louise Mueller, Bethesda, Md.; History
Kaj Preston Neilsen, Ashburn, Va.; Political Science, Economics
David Gordon Nix, Jacksonville, Fla.; Studio Art, Japanese
Elizabeth O'Callaghan Nurmi, Washington, DC; Elementary Education
Matthew Robert Olson, Dallas, Texas; Business
Joy Elise Phillips, Kingsport, Tenn.; Psychology
Devon Morgan Benelli Reed, Findlay, Ohio; Spanish
Renée Lynn Roedersheimer, Cincinnati, Ohio; Business
Sarah Conyous Rolfes, Atlanta, Ga.; Spanish
Theodore Malcolm Russell Jr., Madison, NJ; Finance
Jonathan Paul Schlosser, Morris Plains, NJ; Finance
Kevin Douglas Shafer, St. Helena, Calif.; Political Science, History
Kristen Michelle Shepherd, West Friendship, Md.; History, Spanish
Elizabeth Gaylen Simmons, Norcross, Ga.; Health and Exercise Science
Margaret Elizabeth Smith, Fort Worth, Texas; English
Sophia Ann Vandergrift, Pittsburgh, Pa.; Political Science, History
Jessica Lynn Whicker, Thomasville, NC; Chemistry
Peter Ward Youngblood, Fletcher, NC; German, Religion