Student starts study-abroad fund
Posted May 19, 2008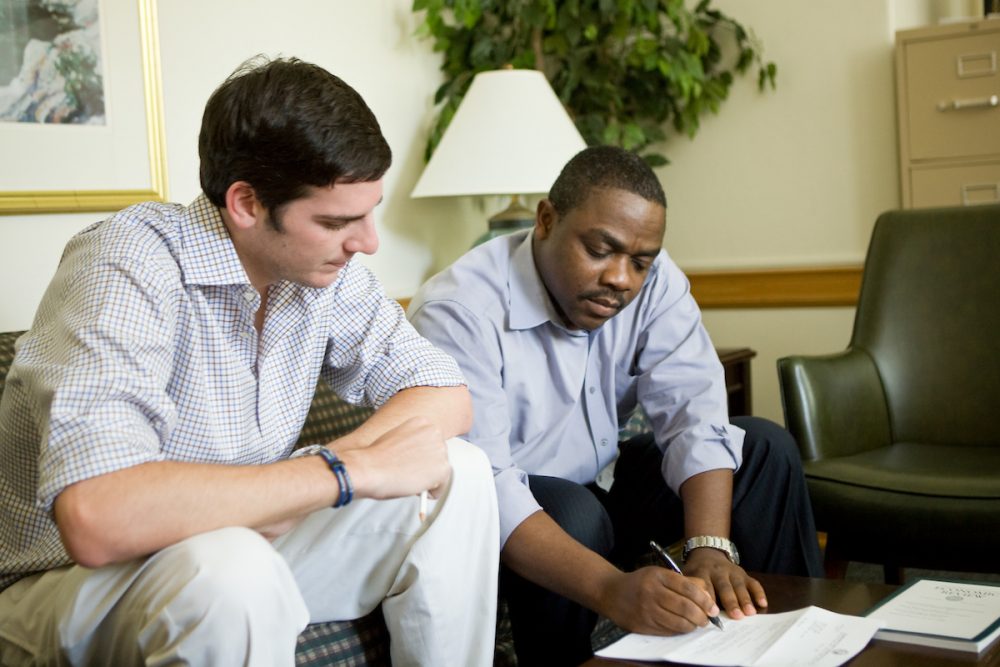 James Beshara (at left) started a study-abroad fund with the help of professor Sylvain Boko.
Following what he called a "life-changing" trip to Africa last summer, senior economics major James Beshara decided to do something to ensure that other students have the same opportunity.
With the help of Zachary T. Smith Associate Professor of Economics Sylvain Boko, Beshara launched the Dvelo Fund, a fellowship program for students to study development issues in the underdeveloped world. The fellowships will be available to undergraduates to travel to developing countries to conduct research or to participate in development programs.
"My experience was made possible by a grant from Wake Forest," said Beshara, a native of Dallas, Texas. "Sadly, many universities do not have adequate funding for study-abroad research grants because of the extreme expense. My hope is that the Dvelo Fund will offer students the same opportunity I had, and in turn, they might return from their experience and feel compelled to assist those who need it most."
Beshara and Boko raised money to launch the fund (www.dvelofund.org). Boko, a native of Benin, West Africa, annually leads students on summer field trips to Benin, where they study the region's history, culture, and development issues.
Beshara is going to Tanzania this summer to volunteer with the Nyanya Project, a program created by Visiting Instructor of English Mary Martin Niepold. Nyanya volunteers work with grandmothers raising their orphaned grandchildren whose parents died from HIV or AIDS. Later this summer, he will begin working for a microfinance bank in Cape Town, South Africa.